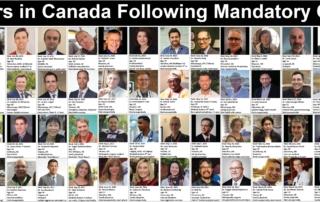 On July 30, 2022 we published an article about how 6 formerly young and healthy doctors in Canada died within two weeks of each other, after one hospital in Canada mandated a 4th COVID booster shot. That article was viewed over 200,000 times on our network. See:
That article was updated on September 20, 2022 when Dr. William Makis announced that he had tracked the deaths of 32 medical doctors in Canada:
I have now tracked 32 Canadian doctor sudden deaths (thank you to all who contributed). These doctors were actively practicing medicine & were healthy prior to taking illegally mandated COVID-19 Vaccines (2, 3 or 4 doses). (Source.)
Today, October 20, 2022, Dr. Mark Trozzi from Canada has published an update stating that the number of "injected doctors" in Canada who have died has now reached 80.
Most of these are documented on Dr. William Makis' GETTR Page.
80 Canadian MDs "boosted" and dead
Around the world, the extreme body count of men, women and children who have been injured or died following the forced and misrepresented genetic injections, continues to grow. The injections are dangerous based on their declared content, but they have many undeclared toxic ingredients as well. No one is spared from the assault on our rights and health.
Though many doctors have maintained their income by complying with and participating in the criminal injection campaign; they are still required to roll up their sleeves and take their turns in this sick game of Russian roulette. In 2022 we now see dramatically increased death rates among young injected Canadian physicians .
Here is a recent compilation of Canada's growing number of injected and lost medical doctors (currently 80). Our condolences go to the family's of the lost Canadian physicians whose names and faces appear here.
Read the full article at Dr Mark Trozzi.
NOTE: Yes, I am fully aware that today the CDC's Advisory Committee on Immunization Practices voted to add the COVID-19 vaccine to the childhood immunization schedule, and I am fully aware of everything that means, maybe even more than most, as I have covered the corruption at the CDC and childhood vaccines for over a decade.
But this was a once-a-year-meeting and the CDC still has to take their advice and actually add the COVID-19 vaccine to their schedule. Most are saying this should be automatic, and they are probably correct, but I am waiting until it actually happens nonetheless before reporting on this.
See Also:
Over 7 MILLION Views!
&
COVID-19 "Vaccine" Casualties List
See Also:
Understand the Times We are Currently Living Through
The post 80 Canadian Doctors DEAD Following COVID-19 Vaccine Mandates as Death Toll Continues to Rise first appeared on Health Impact News.
This content was originally published here.