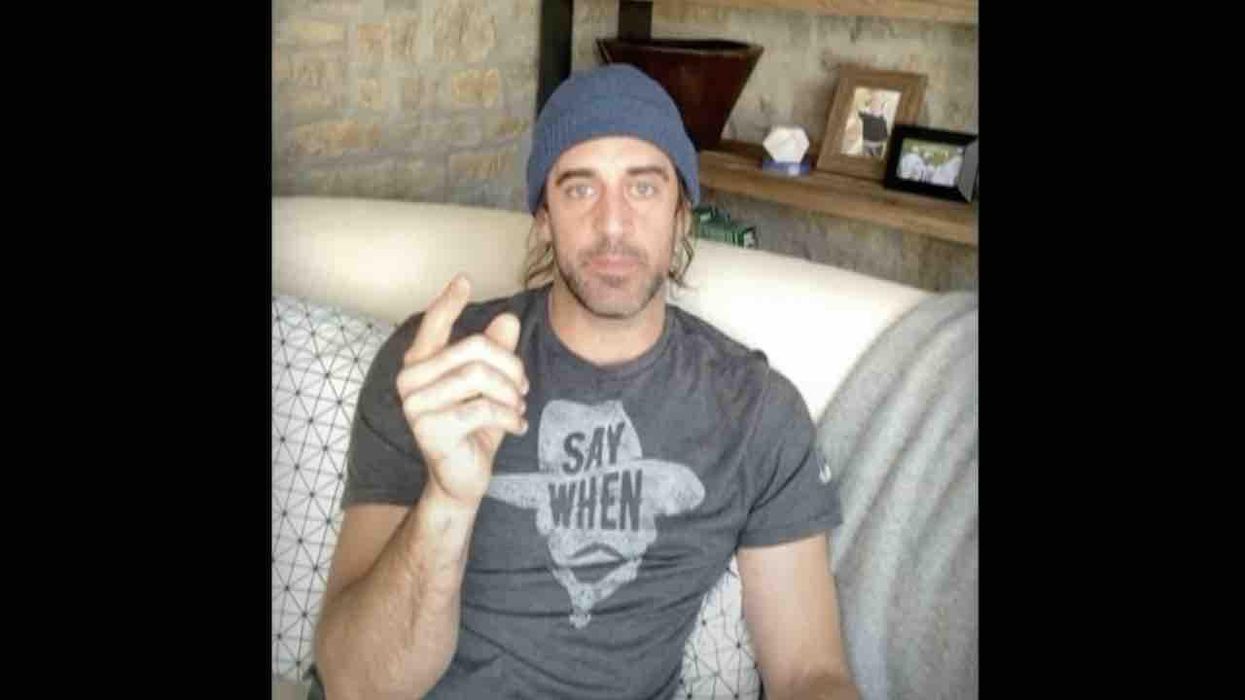 Green Bay Packers quarterback Aaron Rodgers — barred from playing Sunday against the Kansas City Chiefs due to testing positive for COVID-19 — went on the offensive Friday against the media, cancel culture, and the left-wing "woke mob" for going on a "witch hunt" against those, like himself, who are not vaccinated.
What are the details?
Rodgers appeared on "The Pat McAfee Show" and, among a number of other points, took it to the left for hypocrisy over the vaccines.
"When [then-President Donald] Trump in 2020 was champion[ing] these vaccines that were coming so quick, what did the left say?" Rodgers said. "And i'm talking about every member of the left: 'Don't trust the vaccine, don't get the vaccine, you're gonna die from the vaccine.' And then what happened? [President Joe] Biden wins, and everything flips. Shouldn't that initially give you a little bit of pause … isn't this s**t about health and not about, like, politics?"
Content warning: Language:
Aaron Rodgers blasts hypocritical left flipping on vaccines:\n\n"When Trump in 2020 was championing these vaccines, what did the left say? Don't trust the vaccine. Don't get the vaccine…Biden wins and everything flips."pic.twitter.com/38xvCimSdI

— The First (@TheFirstonTV)
1636134953
Indeed, the likes of Vice President Kamala Harris and MSNBC host Joy Reid are in that very left-wing camp of vaccine skeptics under Trump turned vaccine promoters under Biden.
Rodgers also said the left now is conducting a "witch hunt" and wants to "out and shame and denigrate every single person" who is unvaccinated.
"It is so political," he added.
Other issues
Rodgers added to the show's hosts that "everyone on the squad knew I was not vaccinated, everyone in the organization knew I wasn't vaccinated. I wasn't hiding it from anybody." He added that he wanted the issue "to go away" and avoid ongoing chatter about it.
He also said some media members knew he wasn't vaccinated and were "sitting on it for a couple of months."
In addition, Rodgers — who had previously described himself as "immunized" — said he has an allergy to an ingredient in the mRNA vaccines and consulted with doctors on a personal protocol, which is what he meant by "immunized."
As for his present health state, Rodgers added that the left is "really gonna hate the fact that I'm 48 hours in [testing positive], and I consulted with a now-good friend of mine Joe Rogan" — who went through a media firestorm after catching COVID and recovering in days after taking therapeutics. Rodgers added that "I've been doing a lot of the stuff that [Rogan] recommended in his podcasts and … I'm gonna have the best possible immunity now."
Rodgers said he's taking ivermectin to treat the virus — which USA Today characterized in its Rodgers story as "generally used to treat threadworms, roundworms and other parasites." Among the other therapeutics he said he's taking are zinc, vitamins C and D, and monoclonal antibodies.
"And I feel pretty incredible," Rodgers added.
Anything else?
Rodgers also explained in great detail the differences between how the NFL treats vaccinated and unvaccinated players — and that the latter get the short end of the stick.
He said the yellow bracelet he wears tells the world that "I'm unclean and unvaxxed."
Rogers said he has been tested daily per NFL protocol and said he was "in the cross hairs of the woke mob right now. So, before my final nail gets put in my cancel culture casket, I'd like to set the record straight on so many of the blatant lies out there. I tested for COVID over 300 times before testing for possible positive and I probably got it from a vaccinated player."
Here's the longer Rodgers segment.
Content warning: Language:
Aaron Rodgers Tells Pat McAfee His Side Of Vaccine Situation
This content was originally published here.