CDC, Check YOUR Data: MMR Vaccination Rates are NOT Declining
There's a narrative being spread that the vaccination rate for the MMR vaccine has fallen lately due to irresponsible parents, and that the only way to fix the declining rate is to tighten up vaccine exemption laws in every state, which led me to ask a fairly obvious question about my home state: "What has the MMR vaccination rate in Oregon been over time (and why can't I find that in any of the hysterical media)?"
Luckily, the CDC has a super-easy, interactive map that answers this question very clearly, and I hope any members of the media with a brain start to take a look at the actual data, I took a screenshot of Oregon's and you better take a screenshot of your state's before the CDC takes down this weblink:
So, what the heck is going on?
Why is the media saying that parents aren't vaccinating and therefore measles is making a comeback? Let me explain:
So, basically, here's how it works: abuse and misinterpret a rising exemption number–guaranteed to go up if you add new vaccine requirements to the schedule–and generalize that it's happening for all vaccines. Then, NEVER show the historical data, because it decimates your story.
I hope state activists grab the data for their state, share it with their legislators, and ask a simple question:
"Where's the decline?"
Since Washington State is facing an exemption fight, I grabbed a screen shot of WA data. Why can't people just be honest about the data? #wheresthedecline
I also pasted below a table of Oregon's actual numbers, from 1995 to 2017, please show me where the material decline happened (from year to year, there will be some natural variation, because this is a survey.)
Truthful Data Destroys the False Narrative
Note: this data above is for children, aged 19-35 months. By the time these kids get into school, the vaccination rate goes even higher. What's so important about all this data is that it destroys the false narrative. Vaccination rates haven't gone down lately. Period. Ask any epidemiologist you know to run these numbers.
The trend lines are ALL flat. Since 1995. I also know that each year, here in Oregon, the OHA's data and the NIS data from CDC are generally the same, so I'd love to see OHA produce the MMR vaccination rate data since 1995 and ask them a simple question: why not tell the truth?
When I looked at the CDC's numbers, it clearly showed that the MMR vaccination rate has held steady for more than 20 years. I wanted to make sure and corroborate that data with data from the Oregon Health Authority, which they conveniently don't publish very often,  but someone sent me their data from 2014, showing that 97.1% of 7th graders in Oregon have received an MMR vaccine! Where's the decline?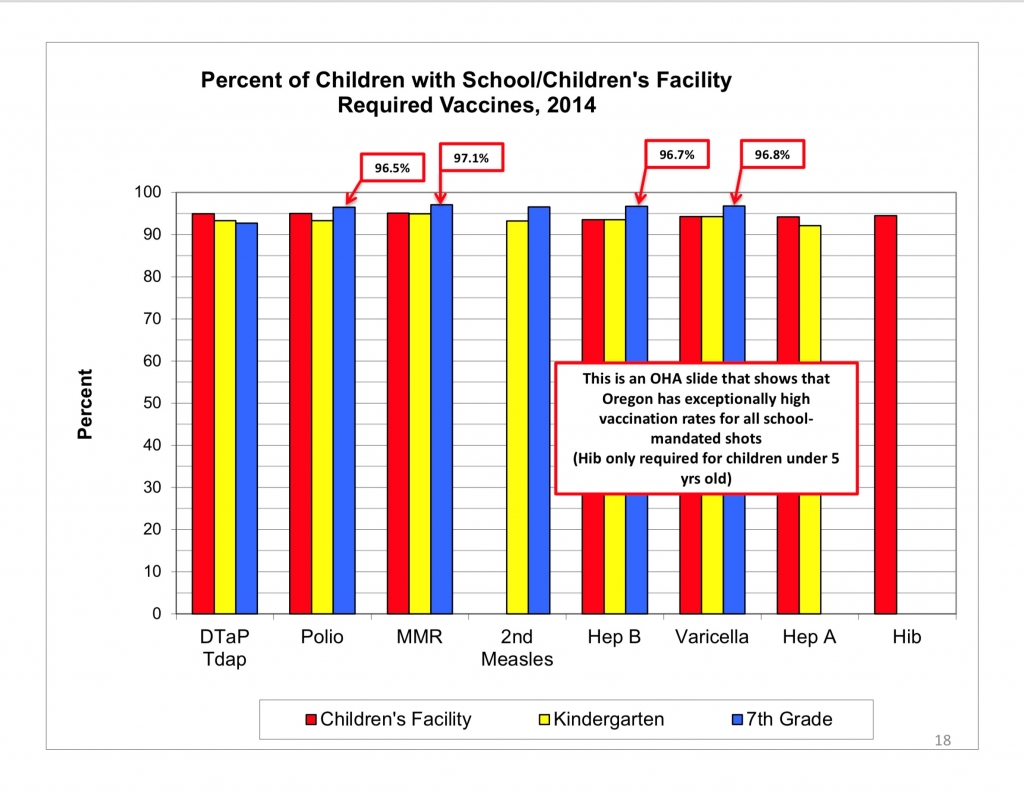 Read the full article at ChildrensHealthDefense.org.
Comment on this article at VaccineImpact.com.
© 2018 Children's Health Defense, Inc.
This work is reproduced and distributed with the permission of Children's Health Defense, Inc.
Want to learn more from Children's Health Defense? Sign up for free news and updates from Robert F. Kennedy, Jr. and the Children's Health Defense. Your donation will help to support them in their efforts.
Dr. Andrew Moulden: Every Vaccine Produces Harm
Retail: $13.99
Now: $9.99
Order Here.
Canadian physician Dr. Andrew Moulden provided clear scientific evidence to prove that every dose of vaccine given to a child or an adult produces harm. The truth that he uncovered was rejected by the conventional medical system and the pharmaceutical industry. Nevertheless, his warning and his message to America remains as a solid legacy of the man who stood up against big pharma and their program to vaccinate every person on the Earth.
Dr. Moulden died unexpectedly in November of 2013 at age 49.
Because of the strong opposition from big pharma concerning Dr. Moulden's research, we became concerned that the name of this brilliant researcher and his life's work had nearly been deleted from the internet. His reputation was being disparaged, and his message of warning and hope was being distorted and buried without a tombstone. This book summarizes his teaching and is a must-read for everyone who wants to learn the "other-side" of the vaccine debate that the mainstream media routinely censors.
Read Dr. Andrew Moulden: Every Vaccine Produces Harm on your mobile device or computer by ordering the eBook!

Book – The Vaccine Court, by Wayne Rohde – 240 pages
"The Dark Truth of America's Vaccine Injury Compensation Program"
FREE Shipping Available!
Say NO to Mandatory Vaccines T-Shirt
100% Pre-shrunk Cotton
Order here!
Make a Statement for Health Freedom!
Big Pharma and government health authorities are trying to pass laws mandating vaccines for all children, and even adults.
Show your opposition to forced vaccinations and support the cause of Vaccine Impact, part of the Health Impact News network.
This content was originally published here.