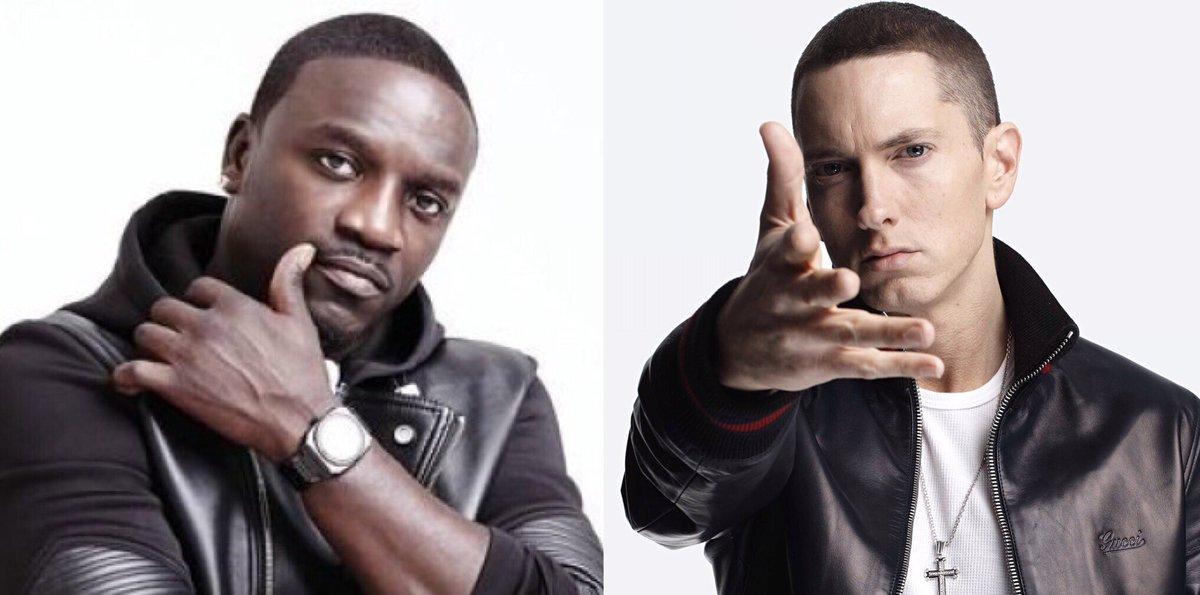 Akon is a Grammy-nominated and platinum-selling rapper, songwriter, singer, and producer. It is not a known fact, but the artist says he has also produced every single record he ever released. Every but his biggest hit, "Smack That", produced by Marshall.
"Smack That", released in 2006 for Akon's album "Konvicted", has over 570 million streams on Spotify and over 950 million views on YouTube. It is the 15th most streamed track in Marshall's catalogue and Akon's most streamed song ever.
Akon spoke about his collaborations with Eminem and Dr. Dre on a new The Bootleg Kev Podcast episode:
It's interesting because every record I ever put out, I actually produced, except "Smack That". Eminem produced that record. Isn't that crazy? He always had them small little sounds, it was something minute, but it felt like Eminem.
However, Akon didn't even know that Eminem was good at production when he came to him to seek collaboration. He just wanted that joint:
Actually, I went to visit Em in Detroit, he was like, "What'd you wanna do?" I said, "Em, I wanna do whatever you wanna do. I want to come into your world". Because I bring you into my world, it won't be no different from what's out there now. He was like, "Alright, I got some beats". I said, "Nigga, you produce?! Well, play me some tracks!" He gave me a folder with, like, 30 tracks in there. And out of 30, I picked five. And I recorded all five, and the one that stood out was "Smack That". I was like, "Bro, this is it". Once he heard my concept to it, he was like, "Yo, I'm jumping on this one". And I said, "You know what, if he jumps on this one, this will be a single". And that's the only one we ever had together, besides all those we did. But I still have them. I literally still have those records today. These are all the records that's gonna drop in the future.
While four more records produced by Eminem (but seemingly bare of Marshall's verse) are still locked in Akon's vault, songs that were meant to be buried together with "Detox" found their way to the public, and Akon cannot be happier about it:
The last two records he was putting out for "Detox" were the records that I produced. I was lucky, I was blessed, both of them were released. One of them was me and Snoop, and Dre, "Kush". And the second one was just Dre and Snoop, and I was on the chorus. Dre is such a perfectionist. I think he's too perfect for himself. There was a lot of fear involved as to not being number one. I'm not speaking for him, and I could be completely wrong, but from the outside looking in, it felt like he put too much on himself to succeed and be successful. I believe he doesn't need it. He has nothing to Cprove to anybody. To me, he's the greatest producer out on the West Coast and influencer when it comes to hip hop and gangster music. No matter what he would have dropped, everybody would have thirsted it up, they'd have to take it in.
Watch the video below:
The post Akon Remembers How Eminem Jumped on "Smack That", Feels Lucky That His Songs From "Detox" Came Out first appeared on Eminem.Pro – the biggest and most trusted source of Eminem.
This content was originally published here.