Although BTS has fans worldwide, the members are never afraid to showcase their own admiration and love for the people they come into contact with in their schedules.
Recently, BTS seemed whipped AF after they met their instructor for the recent Run BTS! episode.
BTS had fans excited when it was revealed that the recent Run BTS! episode would feature the members doing some flying yoga. From the very beginning, the members seemed excited and ARMYs couldn't wait to see the members in action.
Yet, if ARMYs worldwide were ready to be whipped for the members, BTS proved that they were whipped for one person, and that was their yoga teacher.
After the task for the episode was revealed, it was time to introduce the person that would be teaching them. As soon as he entered the room, even the editors couldn't resist putting captions labelling him as "bulky" and "burly."
Of course, the captions weren't enough and the members were more than ready to hype up their yoga teacher. J-Hope was the first to make his thoughts known, gushing, "The teacher's physique is really…" before Jin finished with, "The muscles on his body…"
The rest of the members also weren't oblivious to the physique of their teacher, and Jungkook was right when he said, "It's crazy." Even when he suddenly showed a demonstration, the members were still in awe.
When he'd finished his demonstration, BTS showed how shook they were by his skills with their reactions.
As soon as the instructor introduced himself in what seemed like an uber complicated position, Jimin seemed so shook by what he was seeing that he dropped to the ground while the other members' reactions were just as priceless. Lee Sung Young definitely made an impact with the members.
Lee Sung Young continued showcasing his skills and the members stayed as fascinated… and a bit scared as they would have to do it.
RM rightly pointed out that it wasn't really common to see male yoga instructors, and the members started joking that he got that body not just through yoga but doing a huge amount of weight training.
After Lee Sung Young explained that yoga was a full body workout, the members once again started praising his physique. Suga and RM explained how they were seeing real muscles in action, with J-Hope adding, "I got shocked seeing his lower body as he came in."
Even while they were doing the yoga and Lee Sung Young was helping them, V couldn't help but share his love for their teacher. When he was in a graceful pose, V said, "Teacher, you look really pretty now."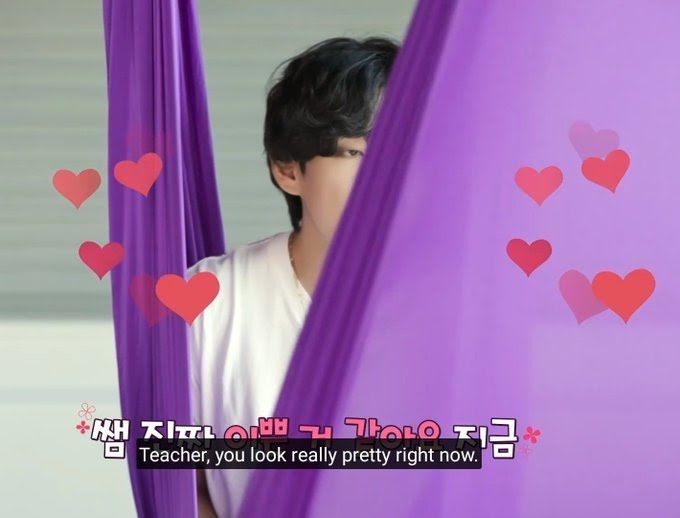 When the episode was posted, ARMYs couldn't get enough of BTS's reaction to Lee Sung Young, especially as it wasn't the first time they had been whipped for their instructor.
the heart emojis in the side pic.twitter.com/zDYl0sTfKq

— sen⁷ (@sugatradamus) October 11, 2022
here they go again pic.twitter.com/NI3MlBgh4z

— lau⁷ (@jvnggkuk) October 11, 2022
Although BTS have some of the biggest fans in the world, the members aren't afraid to show their own love for people they are in awe of. Lee Sung Young wowed the members and they showed how whipped they were for their teacher.
You can read more from the episode below.
BTS's Soulmates Jimin And V "Fight" During "Run BTS!" And It Could Only Be Resolved One Way
This content was originally published here.