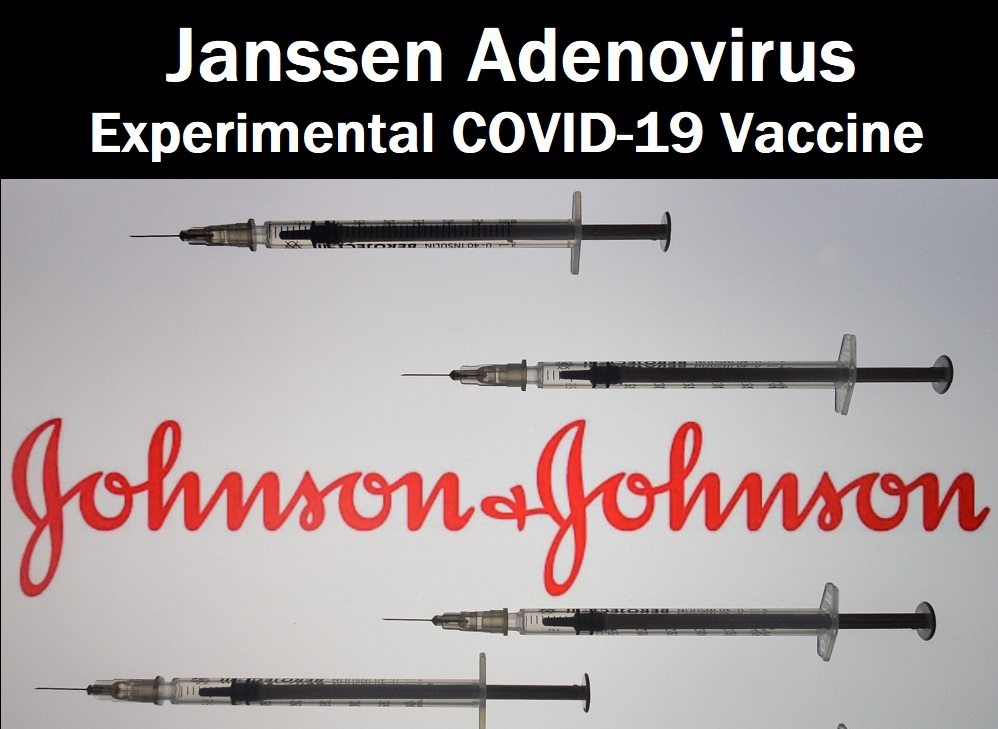 by Brian Shilhavy
Editor, Health Impact News
The FDA today issued an emergency use authorization (EUA) for Janssen Biotech's adenovirus experimental COVID-19 vaccine.
Janssen Biotech, Inc., is a subsidiary of the Johnson and Johnson multi-national corporation, which has paid out BILLIONS in criminal settlements, which is ongoing due to the opioid crisis. You can read their criminal rap sheet here.
The Johnson and Johnson experimental COVID vaccine is not an mRNA vaccine, it is an "adenovirus" vaccine, but like mRNA vaccines, there are currently no approved adenovirus vaccines in the market, although the military has used experimental adenovirus vaccines that are not FDA approved.
So by getting the FDA to issue an EUA, Johnson and Johnson can now test their experimental vaccine on the public as part of their Phase 3 trials.
The vaccine is being produced in Belgium, by the same company that in the past produced the anthrax vaccine that destroyed the lives of so many military personnel. See:
The FDA's vaccine advisory committee met yesterday, Friday, February 26th, and gave their endorsement to the FDA to issue the EUA.
Dr. Meryl Nass, MD, a leading national expert on the failures of the military anthrax vaccine listened to the meeting yesterday, and today she published what she learned from the vaccine committee meeting.
Yesterday, Feb 26, the FDA's vaccine advisory committee (VRBPAC) met to give its assent to the third Covid vaccine candidate applying for an Emergency Use Authorization (EUA). And I spent another day listening in.

This one requires only one dose. For now.

The company is doing a clinical trial of two doses and they could be recommended in future.

The VRBPAC committee comments were lackluster. The members had little to go on. There is no adenovirus vaccine in civilian use in the US, just as there were no mRNA vaccines.

The committee members simply don't know what they have to watch out for. One admitted it, and asked if FDA would assist and suggest what types of issues the newly licensed Ebola adenovirus vaccine or the military adenovirus vaccine had faced.

FDA responded with stony silence.

Clearly this "advisory" meeting was only needed for its rubber stamp.

Most of the sponsor's (Johnson and Johnson) presenters were from the Janssen division, based in Belgium. Many of the FDA's presenters were non-native English speakers. The combination of an audio transmission that kept dropping out, and inability to catch many of the words made it a challenge to fully grasp the presentations. Was this intended?

FDA has refused to inspect the Covid vaccine manufacturing plants before they are "authorized" under EUA. I suspect FDA administrators were directed not to slow the warp speed down.

FDA will have to inspect the factories by law before Covid vaccines are fully licensed, but it seems that the game plan is to get the country vaccinated before adequate data become available and licensure can take place.

While Johnson and Johnson's Janssen division designed and tested this new adenovirus vectored spike protein vaccine, the vaccine is actually being produced in a factory newly taken out of mothballs, with hundreds of new employees, that has never before produced a vaccine for mass use.

It is owned by Emergent BioSolutions, a company notorious for poisoning soldiers with its anthrax vaccine, which has failed multiple anthrax vaccine inspections.  On Emergent BioSolutions' board is Kathryn Zoon, a former head of FDA's Center for Biologics, which regulates vaccines.

This factory's vaccine may not be exactly the same vaccine that about 20,000 subjects in the clinical trial have received. Usually vaccines for clinical trials are made in a pilot plant under stringent conditions.

Four million doses of the vaccine are ready to go out the door, with 100 million more promised through June. None of the committee members thought to ask FDA anything about the manufacturing arrangement.

Does the vaccine work? The vaccine is said to be 66% effective against moderate to severe disease in the trials, and 100% protective against death.

In the clinical trials, having a headache and a cough was enough to put subjects in the "moderate to severe" category. Like the two mRNA vaccines, the vaccine sponsors apparently did not see fit to test whether their vaccines block infection and transmission in humans.

This is the fault of the FDA, which sets the standard for the data needed to obtain an EUA.

Is it safe? What was the placebo?

After a discussion, J and J's lead corrected himself and said it was simply saline. The reported adverse events were practically identical between the saline placebo and the vaccine.

Only hives, ringing in the ears (which eventually resolved) and a small number of blood clots were considered possible vaccine side effects.

I have a hard time believing saline caused all those local (and systemic) effects. Only a subset of the subjects in the trials were evaluated for side effects. Why was that?

I can't tell if this vaccine is safe and I doubt anyone else can, either. Nor do I want to be injected with something manufactured by the anthrax vaccine manufacturer, famed for injuring thousands of soldiers twenty years ago, while making 300% profit margins.

Americans either love or hate the Covid vaccines. The term vaccine seems to give them a luster they probably don't deserve.

How many Americans understand they are all experimental, unlicensed products, only permitted for use under an "Emergency Use Authorization" rule that require a minimum standard of evidence?  The law simply says that in order to receive an authorization,

"the known and potential benefits of the product, when used to diagnose, prevent, or treat such disease or condition, outweigh the known and potential risks of the product, taking into consideration the material threat posed by the agent or agents identified in a declaration under subsection (b)(1)(D), if applicable" 

So, the more its sponsor knows about adverse effects, the more trouble the vaccine is likely to have getting its EUA. Accordingly, it is better for the adverse effects to be as unknown as possible.

Adenoviruses are double-stranded DNA viruses. So instead of mRNA, DNA coding for the spike protein has been inserted into an adenovirus.

The virus will enter human cells and its DNA will enter the cell nucleus, which will then produce mRNA, and just like with the mRNA vaccines, our own cells will make spike proteins. For how long?

Subjects vaccinated with this vaccine developed increasing immunity over a prolonged period, suggesting that spike protein might be made for a long period of time.

We don't know for how long, nor how much is too much. But there are definite concerns about how spike proteins can potentially harm us, and how they may prime us for autoimmune reactions to either a Covid infection or to later doses of vaccine.

Are we guinea pigs?  The EUA legislation specifies that recipients must be given considerably more information than is provided with other vaccines. Still, I wonder how many recipients understand that they are part of a vast experiment, with the potential to cause very serious consequences?
As with the experimental mRNA COVID vaccines, the FDA has issued guidelines for the experimental adenovirus vaccine for both the recipients, and the healthcare workers.
These guidelines are required to be given to both those administering the vaccines, and those receiving them, but in my own experience so far with the mRNA experimental vaccines in discussing this with those who have received them or accompanied people who had received them, this is seldom the case. The public largely believes that these are FDA approved vaccines and perfectly safe, and therefore do not bother to read the FDA guidelines and warnings.
In the recipients guidelines for the experimental adenovirus vaccine, warnings are given for those with the following conditions:
• have any allergies,
• have a fever,
• have a bleeding disorder or are on a blood thinner,
• are immunocompromised or are on a medicine that affects your immune system,
• are pregnant or plan to become pregnant,
• are breastfeeding,
• have received another COVID-19 vaccine
Other information from the FDA that is supposed to be supplied to those who wish to receive one of these experimental products:
The Janssen COVID-19 Vaccine is an unapproved vaccine that may prevent COVID-19. There is no FDA-approved vaccine to prevent COVID-19.

WHO SHOULD NOT GET THE JANSSEN COVID-19 VACCINE?

You should not get the Janssen COVID-19 Vaccine if you:

• had a severe allergic reaction to any ingredient of this vaccine.

WHAT ARE THE INGREDIENTS IN THE JANSSEN COVID-19 VACCINE?

The Janssen COVID-19 Vaccine includes the following ingredients: recombinant, replication-incompetent adenovirus type 26 expressing the SARS-CoV-2 spike protein, citric acid monohydrate, trisodium citrate dihydrate, ethanol, 2-ydroxypropyl-β-cyclodextrin (HBCD), polysorbate-80, sodium chloride.

HAS THE JANSSEN COVID-19 VACCINE BEEN USED BEFORE?

The Janssen COVID-19 Vaccine is an unapproved vaccine. In an ongoing clinical trial, 21,895 individuals 18 years of age and older have received the Janssen COVID-19 Vaccine.

WHAT ARE THE RISKS OF THE JANSSEN COVID-19 VACCINE?

Side effects that have been reported with the Janssen COVID-19 Vaccine include:

• Injection site reactions: pain, redness of the skin and swelling.
• General side effects: headache, feeling very tired, muscle aches, nausea, and fever.

There is a remote chance that the Janssen COVID-19 Vaccine could cause a severe allergic reaction. A severe allergic reaction would usually occur within a few minutes to one hour after getting a dose of the Janssen COVID-19 Vaccine. For this reason, your vaccination provider may ask you to stay at the place where you received your vaccine for monitoring after vaccination.

Signs of a severe allergic reaction can include:

• Difficulty breathing,
• Swelling of your face and throat,
• A fast heartbeat,
• A bad rash all over your body,
• Dizziness and weakness.

These may not be all the possible side effects of the Janssen COVID-19 Vaccine. Serious and unexpected effects may occur. The Janssen COVID-19 Vaccine is still being studied in clinical trials.

WHAT IF I DECIDE NOT TO GET THE JANSSEN COVID-19 VACCINE?

It is your choice to receive or not receive the Janssen COVID-19 Vaccine. Should you decide not to receive it, it will not change your standard medical care.
In the guidenlines for healthcare workers there is additional information, including some of the results of their trials so far.
CONTRAINDICATION

Do not administer the Janssen COVID-19 Vaccine to individuals with a known history of a severe allergic reaction (e.g., anaphylaxis) to any component of the Janssen COVID-19 Vaccine (see Full EUA Prescribing Information).

WARNINGS

Appropriate medical treatment to manage immediate allergic reactions must be immediately available in the event an acute anaphylactic reaction occurs following administration of the Janssen COVID-19 Vaccine.

Monitor Janssen COVID-19 Vaccine recipients for the occurrence of immediate adverse reactions according to the Centers for Disease Control and Prevention guidelines (https://www.cdc.gov/vaccines/covid-19/clinical-considerations/managing-anaphylaxis.html).

Immunocompromised persons, including individuals receiving immunosuppressant therapy, may have a diminished immune response to the Janssen COVID-19 Vaccine.

The Janssen COVID-19 Vaccine may not protect all vaccinated individuals.

ADVERSE REACTIONS

Adverse reactions reported in a clinical trial following administration of the Janssen COVID-19 Vaccine include injection site pain, headache, fatigue, myalgia, nausea, fever, injection site erythema and injection site swelling.

In clinical studies, severe allergic reactions, including anaphylaxis, have been reported following the administration of the Janssen COVID-19 Vaccine.

Additional adverse reactions, some of which may be serious, may become apparent with more widespread use of the Janssen COVID-19 Vaccine.
In short, much like the Pfizer and Moderna experimental mRNA COVID vaccines, the efficacy and safety of this EUA experimental adenovirus vaccine is UNKNOWN, according to the FDA.
But more than likely the media will not mention this at all, but instead lie to the public and assure them that these experimental shots are "safe and effective," and then the CDC will continue to follow their pattern of publishing some of the reported injuries and deaths that will follow these injections, and conclude that the experimental vaccines had nothing to do with them.
Which again begs the question, why would anyone want to get one of these shots? See:
See Also:
Having problems receiving our newsletters? See:
If our website is seized and shut down, find us on Minds.com, MeWe, Parler and Gab, as well as Bitchute and Rumble for further instructions about where to find us.
If you use the TOR Onion browser, here are the links and corresponding URLs to use in the TOR browser to find us on the Dark Web: Health Impact News, Vaccine Impact, Medical Kidnap, Created4Health, CoconutOil.com.
This content was originally published here.