Catalog numbers in the University of Michigan botanical collection help connect plants with their Indigenous histories. This mint, for example, is from Walpole Island, the English name for Bkejwanong Territory (Unceded), a multi-channeled river system that unites Michigan and Ontario.
Elizabeth LaPorte
It's early July, and Jessika Greendeer moseys along a row of head-high Mandan Bride corn, carefully weeding between the stalks while their tassels poke skyward. All around her, dozens of plant varieties grasp the earth with their roots—sunflowers track the daylight, beans and chilis hang on their vines. Greendeer, a member of the Ho-Chunk Nation from Wisconsin, manages this 30-acre farm and Indigenous seed bank for the nonprofit Dream of Wild Health in Hugo, Minnesota, a town about 18 miles northeast of Minneapolis-St. Paul. Many of her charges have survived over generations, making them heirlooms of sorts.
Greendeer belongs to a constellation of seed keepers and farmers from tribal communities who are cultivating traditional crops to return them to their original caretakers. Many age-old plant varieties were lost or nearly wiped out when their Indigenous stewards were forced from their homelands by settlers and troops who broke or coerced treaties, made outright land-grabs, engaged in unrestrained genocidal warfare, and enforced racist federal policies. By the end of the 19th century, anthropologists, scientists, and entrepreneurs began collecting Native American cultural belongings—especially seeds—driven by the assumption that the tribes would be annihilated. "We all deserve to be reconnected with our foods," Greendeer says.
That sentiment encompasses more than a desire to right past injustices. One in four Native Americans suffers from food insecurity, compared to 1 in 8 Americans overall, according to a 2017 study in the Journal of Hunger & Environmental Nutrition. Nearly all reservations are food deserts, reports the nonprofit First Nations Development Institute. These inequities helped give rise to a movement for food sovereignty—the term for systems that enable people, as opposed to corporations—to propel the sustainable production and distribution of provisions. Advocates are trying to revive ancestral culinary and farming practices and open access to traditional foods. In particular, Indigenous archivists, farmers, and scholars are unearthing long-lost "seed relatives" in federal, private, and museum collections and reuniting them with their tribal communities like long-lost kin. The effort is known as rematriation, or the restoration of sacred resources, like plants, land, and water, to their original Indigenous stewards. The term honors Mother Earth as a life-giving force. "Seeds are tribal ancestors too," Greendeer says. "And they need returning."
Academic institutions and museums are often unwilling or too administratively rigid to share, much less return, whole collections of cultural objects. Yet a few, like the University of Michigan (UM), have begun partnering with Indigenous communities and organizations to do just that. And while tribes have welcomed these moves, they've mostly drawn the line at employing techniques like genetic analysis that might identify ancient crop varieties. In the past, the agricultural industry and research institutions have used such information for ownership patents. Instead, careful methods like hand pollination will suffice to keep the integrity of each inherited crop while tribes revive their traditional plant knowledge.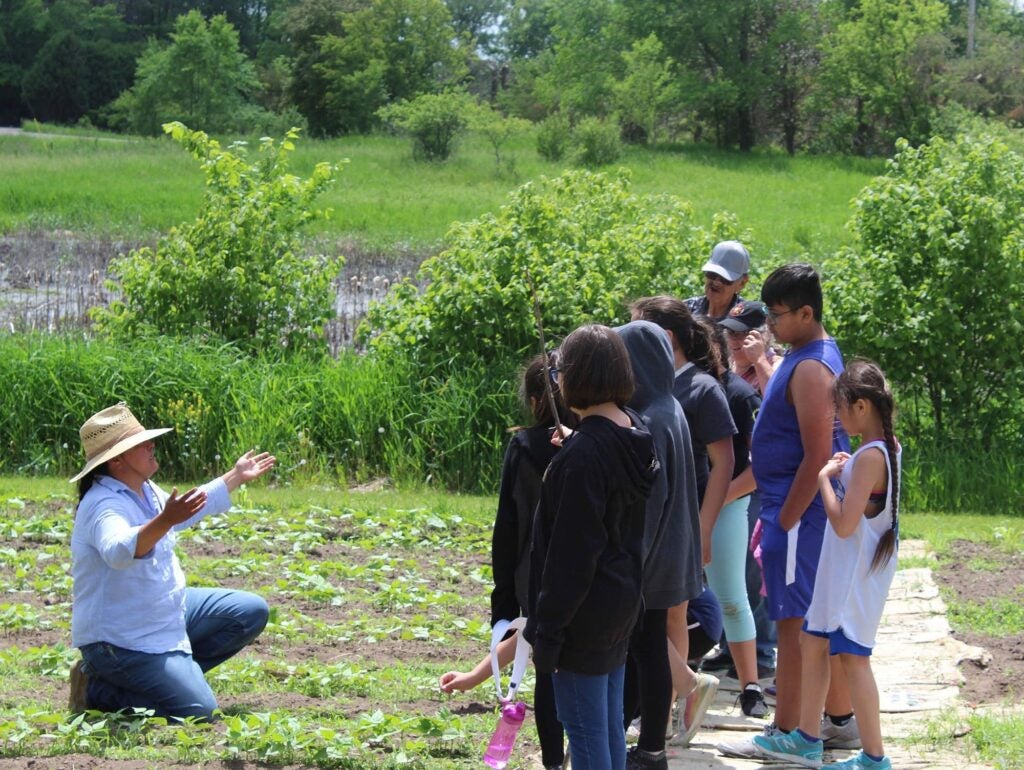 At Dream of Wild Health, founded in 1998, Greendeer leads a dedicated seed regeneration team of two employees and two interns tasked with increasing heirloom stockpiles. She joined the nonprofit after completing a veteran's program in organic farming following a decade in the US Army. Dream of Wild Health also runs an array of youth education efforts, seed-keeping and growing workshops, and organic produce-sharing programs. It also leans on partnerships with local groups like the Indigenous Food Lab, a culinary school and community kitchen focused on researching traditional ingredients and designing nutritious Native cuisine.
"A seed's whole purpose in life is to sacrifice itself to grow one more time," Greendeer says as she paces the garden. They need to return home to hear their languages again, to see their people again. By the end of the growing season, at least three beloved varieties of corn, squash, and beans will have their homecoming.
---
For centuries, tribes in the upper Great Lakes area and across North America developed a palate of colors and tastes, famously breeding spin-offs of staple crops acquired and traded along routes reaching as far as present-day Colombia and Peru. This diversity helped define the unique relationships between different Native cultures and their foods, which were passed from generation to generation like heirlooms. In a push for westward expansion from the 1800s to the 1920s, the US Cavalry, Army, and militias applied their might to destroy crops, native plants, and other food sources like deer and buffalo. Dispossession of territory and of cultural objects went hand in hand; by the 1900s, anthropologists and scientists sought to preserve a visual record of Indigenous culture for museums and academic study. In the ensuing decades, the same entities ignored or resisted Native Americans seeking to regain their cultural property.
Today, at least hundreds and likely thousands of types of heirloom foods sit in restricted collections and private seed bank freezers. Oscar Will's is one such example: The American farmer and entrepreneur built a profitable company in 1882 with corn gathered from the Mandan, Hidatsa, and Arikara tribes in the upper Missouri River plains. In the 1940s, geographer and anthropologist George Carter amassed a hoard of Indigenous goods farmed in the Southwest, which he later donated to the University of California, Berkeley. And the US Department of Agriculture houses a seed bank with more than 10,000 plant varieties for researchers and producers and increasingly does oblige tribal requests.
The United States took a step toward redress in 1990, when President George H.W. Bush signed the Native American Graves Protection and Repatriation Act, commonly called NAGPRA. The legislation recognized that Indigenous skeletal remains and cultural artifacts are distributed across the country in federal agencies and museums, with access predominantly limited to white academics. While the legislation doesn't mention seeds, NAGPRA established a process by which tribes can apply for the return of items significant to their heritage and identity, termed "objects of cultural patrimony." "The bill before us is not about the validity of museums or the value of scientific inquiry," Hawaii Senator Daniel Inouye said at the time. "Rather, it is about human rights." However, whether institutions complied remained an ongoing issue.
---
Sometimes the crops at Dream of Wild Health need precise and personal attention to ensure they will be laden with seeds by fall. In the squash patch, for example, Greendeer—who graduated from the Rodale Institute's Organic Farming Certificate Program in Pennsylvania in 2016—might carefully and methodically float from flower to flower, assuming the role of a bumblebee and hand-pollinating to prevent cross-fertilization. Each plant produces male and female flowers, and they need to mingle to produce fruit. So Greendeer plays the matchmaker. She reaches down and gently plucks a mature golden male blossom and carries it to a neighbor. After peeling back the male petals to uncover a pollen-dusted part, she brushes it across the female's orange ovary with a painterly stroke. Then she folds closed five-pointed petals and seals them with a clothespin. On to the next.
Except for Greendeer's manipulation, each squash flower, regardless of gender, must be kept closed to ensure no pollen from nearby farms blows in and cross-fertilizes the crop. The heirloom corn similarly requires special attention. Greendeer hand-pollinates it by brushing one stalk's tassels against a neighboring female's silk, then draping a bag over the fertilized plant to ward off any unwanted invaders.
The squash, corn, beans, and other plants that Greendeer tends are the direct result of generations of careful crop selection and breeding by several ancestral Indigenous communities. Some came from partners like the nonprofit Seed Savers Exchange (SSE) in Iowa or the USDA's Germplasm Resources Information Network, which maintains a repository of more than half a million samples from 15,000 species of flora. Others were shared by families who managed to safeguard them at home. "It's one of the few things that they can hold in their hand and say their ancestors were holding the same thing," Greendeer says.
She respectfully declines to identify the crops' specific varieties to protect the recipient tribal nations and their seeds, citing past scientific and corporate exploitation—like genetic patenting. She first encountered resistance to the technology in 2017 when she embarked on a growing project on former Ho-Chunk land with Claire Luby, a postdoc researcher in plant breeding and seed systems at the University of Wisconsin-Madison. Initially, the duo considered mapping the genomes of each plant, hoping the DNA would reveal advantages that may have helped the ancient corn adapt to the northern climate. They theorized that genetic patterns might suggest whether any varieties were the foundations for some of the present-day corn grown across the Midwest. Or maybe that a cluster of crops from the Great Lakes region are distantly related to Southwestern ones. But it wasn't meant to be.
They shelved the study after Greendeer consulted local Native American communities, who weren't comfortable with their researching and sharing the corn's genetics by way of a published study. Genetic patenting of heirloom crops is a major concern for many Indigenous growers. For years the White Earth Land Recovery Project in Minnesota has fought the agricultural giant Monsanto for exploiting varieties of its corn and the University of Minnesota over the patenting and genetic engineering of wild rice, a crop sacred to the Anishinaabe tribes. Instead of doing the analysis, Greendeer and Luby recorded visual observations of each type of corn as it grew as reference points to pass along to Native growers once the seeds were returned.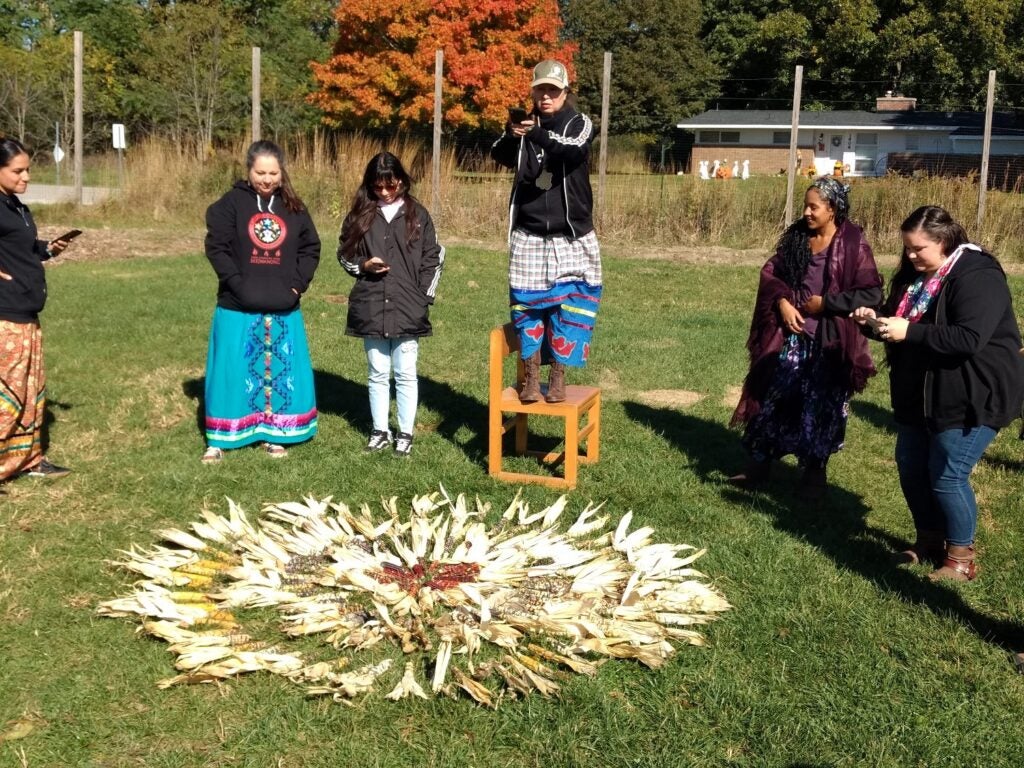 Today, much of Greendeer's work focuses on regeneration for rematriation—increasing the supply of certain vegetables, fruits, and legumes to return the seeds home. This year in May, for instance, she planted 200 total Mandan kernels that she received from the SSE, which boasts a collection of about 20,000 varieties, including historic North American ones. She will harvest the multicolored ears to collect more kernels, lay them out to dry in the sun, then store them for the winter.
The farm's partnership with the SSE began in 2020 in hopes of identifying, growing, and rematriating desirable seeds from the nonprofit's stock each season. Greendeer and two other Native farmers were invited to review the exchange's inventory. She estimates it has hundreds, maybe thousands, of long-dormant Native American varieties.
This expanding effort to share and rematriate ancestral crops has birthed a new consciousness among Indigenous and non-Indigenous seed banks. Their collaborative practices—all aimed at reproducing resilient ancestral food systems—have also begun to make inroads with museums and universities.
---
The shelves of the Phoebe A. Hearst Museum of Anthropology at the University of California, Berkeley, hold a small vial of 13 beans. Of unknown variety, they were carried from northern Oklahoma to Santa Clara Pueblo in New Mexico by representatives of the Delaware Tribe of Indians. In the early 1940s, anthropologist George Carter, who was studying the origins of agriculture in the Southwest, "removed" them, and he eventually included them in the collection he donated to the university.
In December 2020, the Delaware Tribe approached UC Berkeley with a NAGPRA claim to rematriate the beans—marking the first time the law has been used for this purpose. When the Berkeley NAGPRA committee and the Delaware Tribe met, tribal representatives made the case that food, including the seeds that grow it, is part of any people's cultural history, which makes the ancestral germs eligible to be returned under NAGPRA's definition of an "object of cultural patrimony." "To me, it's pretty clear-cut," says Tom Torma, the university's liaison with the tribe, supporting that claim.
The campus's NAGPRA Advisory Committee agreed, recommending the school hand over the beans. The tribe plans to put them to rest with a ceremonial burial after Berkeley releases the vial in spring of 2022. For now, the beans patiently wait.
Today, Berkeley is reckoning with its colonial past. But as recently as June 2020, a California state audit report found that the university had returned only 20 percent of its Indigenous objects and ancestral remains since the federal act kicked in.
"Each museum gets to define things as they see it," says Torma. Institutions can interpret NAGPRA as restrictively or as broadly as they want. This might change soon. The US Department of the Interior—headed for the first time by a Native American, Deb Haaland of the Pueblo of Laguna—announced in July 2021 that it would seek to reform regulations to expedite pending tribal requests under the policy.
Because Berkeley's NAGPRA committee was receptive to the Delawares' claim, Professor Elizabeth Hoover—who is of Mi'kmaq and Mohawk descent and studies, among other things, food sovereignty—hopes to share the museum's ethnobotanical list with tribes. She is among the seed keepers, scientists, and scholars trying to change museum culture to include consultation and collaboration with Indigenous communities. This rematriation coalition of sorts has returned treasures from UM, the Field Museum in Chicago, and the Science Museum of Minnesota in St. Paul. However, Hoover notes, "It's a lot easier to get something into a museum than it is to get something out."
"We move at the rate of trust," says David Michener, curator of the botanical gardens and arboretum at UM, which in the past four years has grown and rematriated plants within its collection in partnership with local Native communities. UM maintains the third-largest ethnobotanical seed collection in North America—essentially a stockpile of Indigenous crops and foods. If tribes knew the sheer size of the cache, Michener says, "Every sovereign nation is going to want to know what seeds are there, and if they are alive."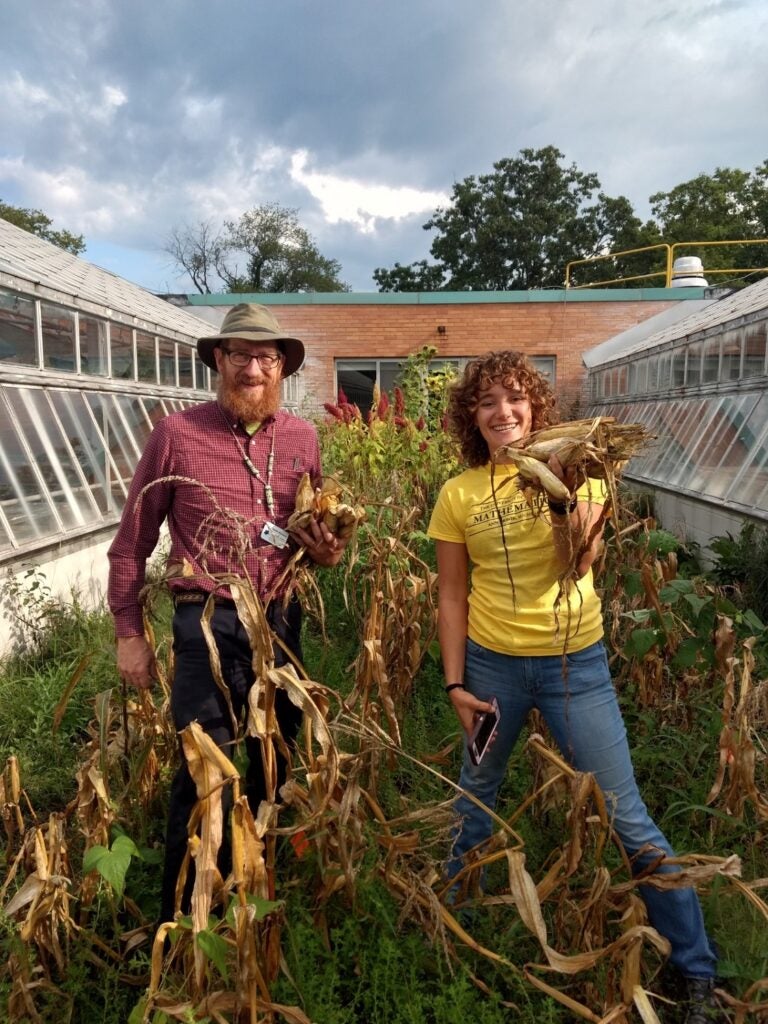 In 2018, he joined a pilot project with Shiloh Maples of the Little River Band of Ottawa Indians and the Indigenous Seed Keepers Network, an heirloom-growers' advocacy group, to rematriate seeds from the university's collection to the Anishinaabe people.
Recently, Veronica Pasfield, a NAGPRA officer for the Bay Mills Indian Community in Michigan, began combing through a copy of UM's sweeping inventory, looking for those that might belong to her tribe. Pasfield is somewhat new to seed rematriation but has worked for 15 years to return other cultural possessions to Indigenous groups. In fact, UM hired her as a NAGPRA coordinator in 2010, when the school still held 1,600 Native American remains in its museum of anthropology. Today, half of them have been returned; work to return the culturally unidentified is underway.
"Sometimes the most egregious offenders of failing to observe the rights of Indigenous people are researching universities," Pasfield says. "They attract faculty and graduate students and massive grant money to do research on our bodies, our objects, our seeds."
---
The growing season ends with a harvest, when at least some of the bounty of traditional science and farming is finally tasted. In 2019, the first year Dream of Wild Health had a dedicated seed regeneration team, Jessika Greendeer stepped into the heirloom garden and plucked a squash for a potluck. Her mentee was finishing her apprenticeship that day, and Greendeer wanted to mark the occasion with a special send-off. She asked the chef who prepares meals for Dream of Wild Health's youth education programs to bake the vegetable.
Normally Greendeer dries and preserves seeds to be stored away to plant next season. Squash is an exception in that its meat is also harvested so that it doesn't go to waste. And while Greendeer usually seasons it, this heirloom variety's flavor was almost spiritually nourishing, whether baked, pureed, or roasted. "It was perfect straight out of the oven," she says.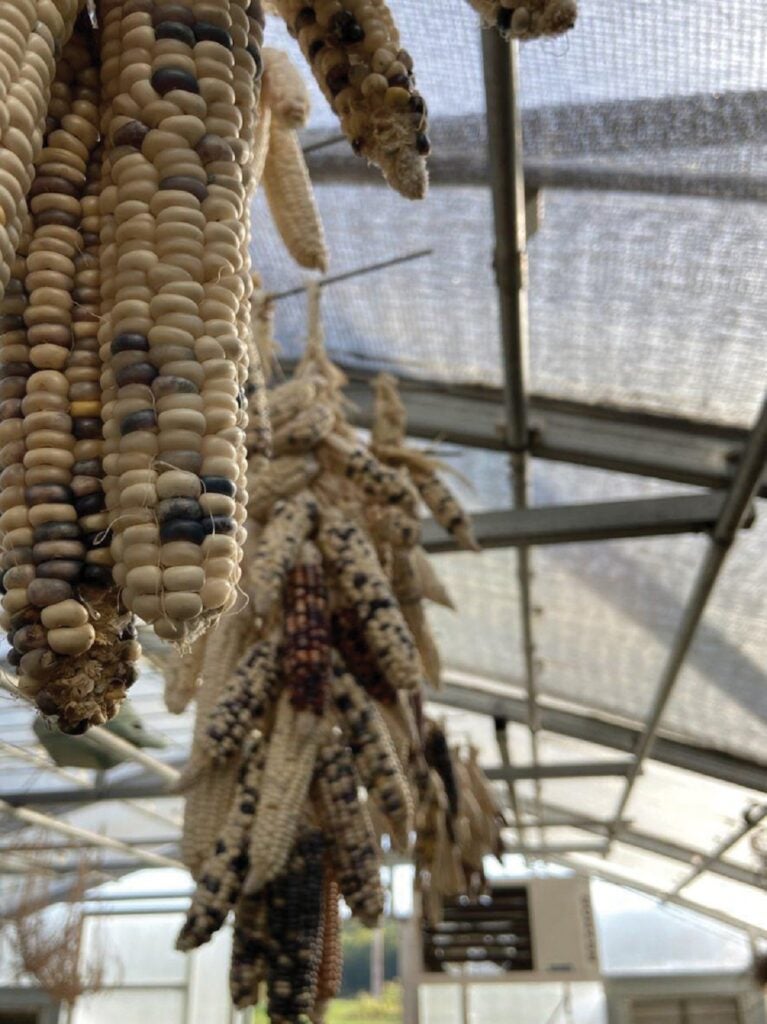 The following year, as the coronavirus inflamed food insecurity, disrupted supply chains, and swallowed up jobs, Dream of Wild Health and the Indigenous Food Lab in Minneapolis prepped and delivered more than 80,000 meals for nine tribal nations around the state. The food also fed the Minnesota Indian Women's Resource Center and residents in homeless encampments in the city, many of whom are Indigenous. Their work, among Indigenous sovereignty groups', was recognized by a new US Department of Agriculture initiative this past fall.
Instead of using "colonial ingredients" like wheat flour, refined sugar, and dairy, the Lab's Oglala Lakota culinary director and chef, Sean Sherman, prioritized sourcing produce from Indigenous growers to cook an array of culturally relevant foods. All his dishes were designed to support Indigenous dietary needs: sweet potato, carrot, and maple soup; smoked turkey with native grain mix; bison and hominy stew; bison tamales with black beans; and fried wild rice with, oh yes, bison-cranberry meatballs.
Two growing seasons have now passed amid the pandemic. It's late September, and Greendeer stands at the edge of the modest but immensely rich garden. Soil-regenerating cover crops of radishes, peas, and oats blanket the field. As winter approaches, she thinks about the oncoming responsibility of passing along bundles of heirloom seeds she's safeguarded for months. Rematriation, she knows, is an exercise in trusting one's own abilities, then letting long-lost ancestors go to be nurtured by their tribes. Their fates will be out of her hands, the way it was meant to be.
Since she joined the rematriation movement, Greendeer has remained conflicted about the role museums played in colonization. Yet without their collections or non–Native American seed banks, what chance would there be to connect tribes to their cultural foods? She talked with her elders about these feelings, and something they said gave her much comfort. "You have to remember that there was a time when we weren't in a place to take care of them in a good way. That some seeds said, 'Yes, I will go.' And so they waited for a time to be returned."
The post Indigenous farmers are 'rematriating' centuries-old seeds to plant a movement appeared first on Popular Science.
This content was originally published here.