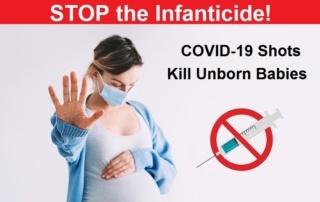 by Brian Shilhavy
Editor, Health Impact News
The U.S. Government's Vaccine Adverse Events Reporting System (VAERS) was updated today, and there are now 4,534 fetal deaths recorded in VAERS following COVID-19 vaccines given to pregnant and child-bearing women. (Source.)
And these recorded fetal deaths are but a fraction of the real number of unborn children who have died since the COVID-19 experimental vaccines were given emergency use authorization, as a previous report published for Department of Health and Human Services stated that fewer than 1% of all vaccine adverse events are actually reported to VAERS. (Source.)
Three of these fetal deaths have followed the new Bivalent COVID-19 booster shots from Pfizer and Moderna, including a 26-year-old woman from Arizona who developed breast cancer following the vaccine, and chose to have chemotherapy and terminate the life of her unborn child.
VAERS ID: 2447825: Began noting a breast lump 9/2021 Biopsied ER/PR + HER 2- breast cancer MRI 3/17/2022 with hepatic mets multiple small pulmonary mets also noted. Liver biopsy 4/1/22 consistent with metastatic breast cancer. Noted to be pregnant when she went for port-a-cath.

Choose to terminate pregnancy 3/31/22 to allow for complete chemo. ACT 4/5/22-7/23/22 . PET noted resolved axillary nodules and pulmonary nodules, Liver mets responding but still with activity. Sarted Lupron and anastrozole 8/10/22, Kisqoli addes 8/23/22.

I am not saying MRNA vaccines caused this but I have seen way more and way younger breast cancer in this remote population in than in a very long career.

We have had 18 new cancers since the vaccines only 1 was unvaccinated. This is the youngest ever. (Source.)
By way of contrast, for the 30 years prior to the emergency use authorization of the COVID-19 vaccines, there were 2,245 reported cases of fetal deaths following all FDA-approved vaccines, or about 6 fetal deaths per year. (Source.)
Taking the total fetal deaths following COVID-19 vaccines for the year 2021, 3,774 fetal deaths (source), that is an increase of 60,418% over the yearly average of fetal deaths following all FDA-approved vaccines for the previous 30 years.
Besides these government statistics from VAERS, medical professionals are corroborating this evidence of infanticide by COVID-19 vaccines based on the increase they are seeing in fetal deaths and stillborn babies following the roll outs of the COVID-19 vaccines.
An alleged leaked email from a "managing nurse" from a hospital in Fresno, California, states that there has been an increase in stillbirths following the COVID-19 vaccines, and that this trend is expected to continue according to Epoch Times.
&
This follows a report we recently published by Dr. John Campbell regarding the increase in neonatal deaths in Scotland.
And that follows another report we published last month (October, 2022) from Dr. James Thorp, a board certified OBGYN and Maternal Fetal Medicine Physician with over 43 years of obstetrical experience, who was interviewed by Dr. Drew Pensky and stated that in the past two years since the mRNA COVID vaccines were introduced, he has seen an "off-the-charts" rise in sudden fetal death and adverse pregnancy outcomes, such as fetal malformation and even fetal cardiac arrest, among his patients.
&
And that follows a report we published in September of a Toronto-area casket manufacturer who reported that for the first time in his 30 years of manufacturing coffins, they had to order more coffins than usual for children, ordering them in bulk this year, as there has been such a dramatic increase in deaths among children.
&
And that follows a report we published in June from Dr. Elizabeth Mumper who stated "For a first-trimester woman to get this injection, they have more of a chance of having a miscarriage or stillbirth than if they were to actually take an abortifacient."
&
Another article we published in June reported that birth rates around the world were dropping since the COVID-19 vaccines were mass distributed to the public:
In May, we published an article reporting that the FDA had data showing 82% – 97% of pregnant women injected with the Pfizer COVID-19 vaccine lost their babies before the FDA authorized the shots:
In February of this year we published a video of two young mothers who lost their babies after getting the COVID-19 vaccines, to put some faces on these cold statistics:
Here is one of the earlier reports we did on fetal deaths following COVID vaccines in October of 2021, and this video has been viewed by almost 2 million people now:
&
Who is Taking a Stand for the Unborn Babies Being Slaughtered in the Womb from COVID-19 Vaccines?
This problem of massive fetal deaths following COVID-19 vaccines is very well documented and testified to now. It has even been covered on Fox News, and I alone have gotten this message out to millions of people now.
And while the Red State Governors have been quick to utilize the recent Supreme Court ruling to make it illegal for parents in their states to kill their unborn children via abortion, how many governors are taking action to prevent parents from trying to kill their unborn children, and even their children already born, with the COVID-19 shots?
NONE OF THEM!
As for the 50 U.S. Senators and the 435 members of the House of Representatives, as well as the former Republican President of the United States, how many of them are taking a stand against infanticide and attempted child murder via the COVID-19 shots?
NONE OF THEM!
They are all pro-vaccine, including pro-COVID-19 vaccines. Hear it from their own mouths:
I could name names right now of those in the Alternative Media, BIG names who have a lot of readers, who probably would have linked to or republished this article up until this section where I show how "Conservative" Right-Wing Republicans are just as complicit in allowing this infanticide to happen as "Liberal" Left-Wing Democrats, but now will not touch this article because it will upset their reader base, especially just a few days before a national election.
YOU ARE ALSO PART OF THE PROBLEM!!!
You are giving your readers a false hope that if they just elect the right politicians in the elections next week, we will see changes in this country and stop the insanity surrounding COVID-19 bioweapon shots.
You love the praise of men more than you love the praise of God, and you will have to give an account of your (in)actions some day.
Yet at the same time many even among the leaders believed in him. But because of the Pharisees they would not confess their faith for fear they would be put out of the synagogue; for they loved praise from men more than praise from God. (John 12:42-43)
The blood of the unborn is staining this country and crying out to God, and much of it is being shed by those who call themselves "Christians" and "Conservatives" who will find out, perhaps too late, that God does not care about your political or religious affiliations.
Justice will be served at the correct time. And in my opinion, that time is coming soon.
The LORD reigns; let the peoples tremble! He sits enthroned upon the cherubim; let the earth quake! (Psalms 99:1)

He will judge the world with righteousness, and the peoples with equity. (Psalms 98:9)
See Also:
Over 7 MILLION Views!
&
COVID-19 "Vaccine" Casualties List
See Also:
Understand the Times We are Currently Living Through
The post STOP the Infanticide! 60,000% Increase in Fetal Deaths Following COVID-19 Vaccines! first appeared on Health Impact News.
This content was originally published here.