For those who were holding out, it's officially September, making it perfectly acceptable to sip on something cinnamony and sweet without feeling like jumping the gun. Pumpkin spice has become as synonymous to fall as gingerbread is to Christmas and chocolates are to Valentine's Day. Well-crafted pumpkin-flavored products spark joy. They don't just taste good, they make us feel cozy, comforted, and a little bit celebratory. And we're here for that. Granted, there are a lot of pumpkin-infused products, and not all of them are winners. Here are the 26 best vegan pumpkin spice products you can get this year.
Daiya
1Daiya Pumpkin Spice Cheezecake
Daiya may be known for its vegan cheese, but the line of cheesecakes it introduced in 2016 really show off what the company can do. Made with a classic graham cracker crust and a dense, decadently creamy cheesecake filling infused with just the right amount of pumpkin spice, this treat always makes an appearance at fall potlucks and dinner parties. 
Find out more
Maxine's Heavenly Cookies
2 Maxine's Heavenly cookies
The fan-favorite Pumpkin Pecan Spice flavor has returned for its encore! These soft-baked, two-bite morsels are gluten- and refined sugar-free, but that doesn't mean they're not addictive. Try the convenient two-cookie snack packs, or risk polishing off a whole bag in one (albeit delicious) sitting.
Find out more
Califia Farms
3 Califia Farms' cold brews and creamers
Califia's Pumpkin Spice Latte Cold Brew is the vegan equivalent of the Starbucks PSL. It's a universal signal that fall has come. Regardless of the fact that this popular bottled beverage is available beginning in late August, the sweet warming spices of this almond milk-based cold brew make us want to jump into a pile of autumnal leaves. The brand's line of pumpkin spice-flavored almond milk creamers have also returned.
Find out more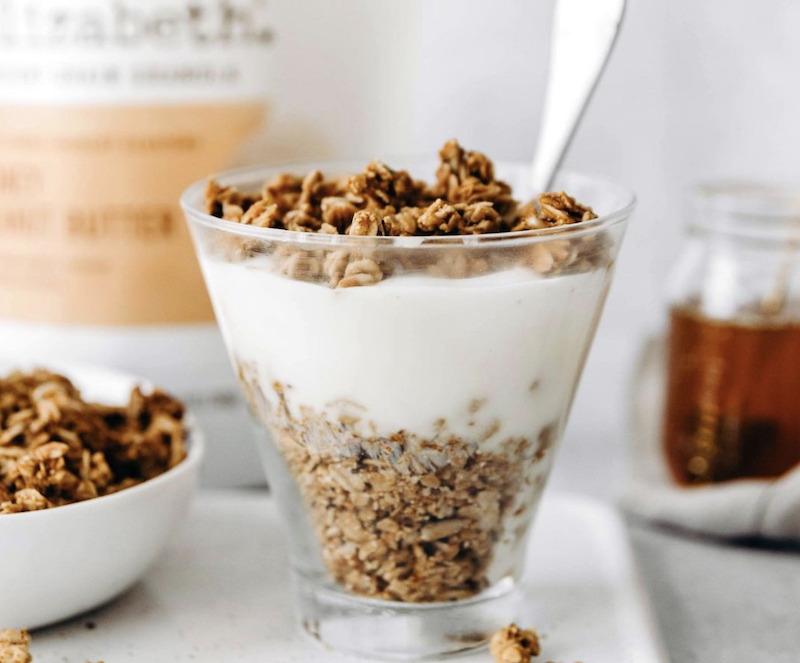 Purely Elizabeth
4Purely Elizabeth Pumpkin Cinnamon Ancient Grain Granola
While we like to keep pumpkin spice out of our yogurt, we don't mind a fall-flavored crunchy topping. This lightly sweet granola incorporates organic pumpkin seeds and cinnamon into the mix—which means it tastes like real food, not a food lab approximation. We love the texture of this granola—not too chunky and perfect for sprinkling on everything from dairy-free yogurt to ice cream. Of course, there's always the bag-to-mouth option. 
Find out more
Kite Hill
5 Kite Hill Pumpkin Pie Cream Cheese
Bagels and all that accompany them are controversial. To toast, or not to toast? Is a blueberry bagel even a bagel? Does New York really make the best bagels? Are Montreal-style bagels better? Kite Hill's new Plant-Based Pumpkin Pie Cream Cheese does not escape this controversy. Do the flavors of fall belong on a bagel? That's up to you to decide. One thing we can all agree on: this will make an excellent cream cheese frosting for vegan cream cheese-stuffed pumpkin muffins.
Find out more
Peet's
6Peet's Pumpkin Latte
Craving a PSL? You won't find a vegan version at Starbucks (it's literally impossible—the pumpkin syrup contains dairy), but you can satisfy this craving at Peet's. The coffee chain is rolling out two vegan-friendly pumpkin-flavored beverages for fall: the Pumpkin Latte (vegan when ordered with your favorite non-dairy milk) and the Pumpkin Cold Brew Oat Latte with Brown Sugar Jelly (vegan as-is). Bring on the cozy. 
Find out more 
Nature's Bakery
7 Nature's Bakery Pumpkin Spice Fig Bars
Take a Fig Newton. Add real pumpkin purée and warming spices. Take out the high fructose corn syrup. That's a Nature's Bakery Pumpkin Spice Fig Bar. Essentially, they're wholesome enough to satisfy parents and tasty enough to hand out at Halloween (without being labeled as the dreaded health food house). 
Find out more
Rule Breaker Snacks
8 Rule Breaker Blondie Bites
The makers of the chickpea-based blondie have launched an addictively good new product that makes pumpkin spice more snackable than ever. Rule Breaker's new Pumpkin Spice Bites are soft, chewy, and packed with cozy, warming spices. Like the brand's other better-for-you-treats, these bites are primarily made with chickpeas and are free from the top 11 food allergens—including gluten and nuts. Besides snacking on them straight from the bag, try zapping them for a few seconds in the microwave and tossing them on a scoop of vegan vanilla ice cream. Hello, PSL blondie sundae. Stock up online or at supermarkets nationwide. 
Find out more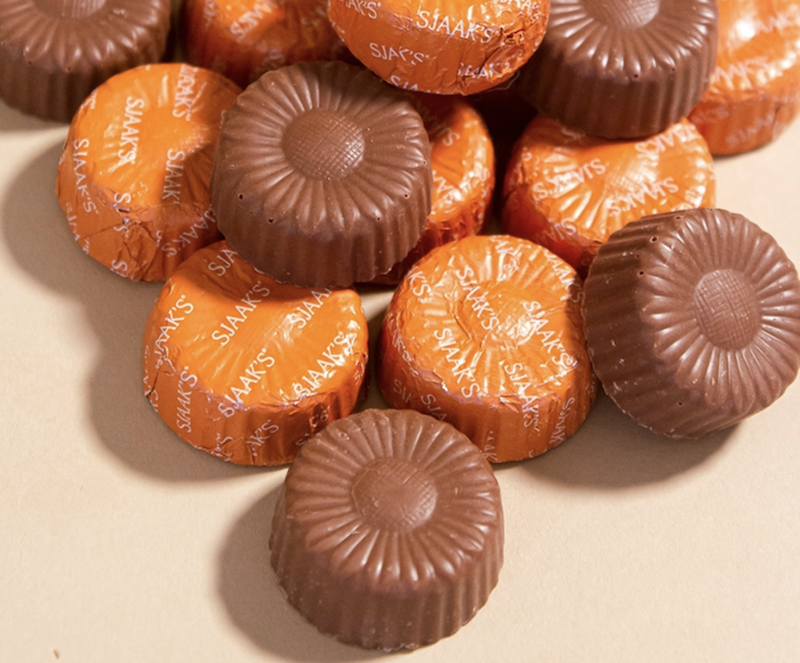 Sjaak's
9Sjaaks' Pumpkin Spice Melk Chocolate Bites
We're over waiting for Halloween to nibble on Halloween candy. These pumpkin spice-infused vegan chocolates are just too good to resist. The pumpkin-shaped morsels are perfect for those who crave a sweeter, less bitter bite of chocolate (looking at you, vegans who don't like dark chocolate). Just save some for the kiddos when October 31st rolls around.
Find it here
Raised Gluten-Free
10Raised Gluten-Free Pumpkin Pie
Making pie crust from scratch is hard. Making gluten-free pie crust is even harder. Allow this allergen-friendly company to do the heavy lifting for you. Keep one of these vegan pumpkin pies in your freezer for Halloween parties, Friendsgiving, or any fall-themed gathering. No one has to know it's store-bought.
Find out more
Wild Friends
11Wild Friends Pumpkin Spice Peanut Butter Blend
Not to be confused with pumpkin butter—which is sweetened and reduced pumpkin purée—this nut butter spread offers the comfort and familiarity of peanut butter with a hint of sweet warming spices. Slather it on freshly baked pumpkin bread, your morning toast, or drizzle it on cozy, cinnamon-spiked oatmeal.
Find out more
Silk
12Silk Pumpkin Spice Almond Creamer
You can easily pretend you're sipping on a pumpkin spice latte with a heavy splash of this indulgent creamer. Crafted from almond milk, Silk's Pumpkin Spice Creamer makes an average cup of coffee silky smooth and infinitely more sippable.
Find out more
Trader Joe's
13Trader Joe's Pumpkin Bagels
Pumpkin everything has officially arrived at Trader Joe's, and while there are about a dozen different vegan pumpkin products that deserve a place in your cart, these pumpkin bagels deserve to be placed on top (for practical and figurative reasons—you don't want to smush them!). Though unique in flavor, they work with a number of different spreads including plain cream cheese, Miyoko's cinnamon cream cheese, or a substantial pat of butter. Pro tip: use it to make this pumpkin bread pudding. 
Find out more
Jojo's
14Jojo's Pumpkin Spice Bites
These layered confections taste like something you would purchase in a paper doily at See's Candy, though not as cloyingly sweet. Each two-bite chocolate bar is filled with pumpkin spice granola butter and topped with gluten-free pumpkin seed granola. They're essentially a fun-sized candy bar made with real food.
Find it here
Abe's
15Abe's Pumpkin Muffins

Yes, we know the Muffin Man, and his name is Abe. The vegan muffin company is making pumpkin spice muffins in every size—from the bite-sized minis to the palm-sized One Big Muffin. For a slice-and-share option, check out the pumpkin bread, which comes in loaf form. No matter which you choose, Abe's guarantees each bite will be delightfully sweet, tender, and perfectly moist.
Find it here
Cocomels
16 Cocomels' Pumpkin Spice Caramels
They're back! Cocomels is flooding the candy aisle with its cult-favorite pumpkin-spiced vegan caramels. Each chewy, two-bite treat is made with coconut milk and a blend of cinnamon, clove, and allspice. These caramels have already got us thinking about what to hand out at Halloween—Pumpkin Spice Cocomels and vegan peanut butter cups, obviously.
Find out more
Nuttzo
17 NuttZo Pumpkin Spice Nut Butter
Prefer crunchy nut butter? This seven nut-and-seed blend is right up your alley. Nuttzo combines cashews, almonds, Brazil nuts, hazelnuts, flax seeds, chia seeds, and pumpkin seeds into a delightfully textural spread that packs in six grams of protein and 10 percent of one's daily iron into each delicious serving. For the fall season, the brand infused its original Power Fuel with warming ginger, nutmeg, and clove spices to add a touch of cozy to every indulgent spoonful. Try it slathered on muffins, swirled into cinnamon-spiked oats, or spread on a crisp apple for a nutrient-dense snack.
Find out more
Simple Mills
18 Simple Mills Pumpkin Mixes
Not much of a baker? Lean on this gluten-free baking mix to help you out. Simple Mills offers pumpkin-flavored muffin and pancake mixes this time of year, and while the back-of-the-box instructions call for eggs, the brand assured us the eggs can be swapped one-for-one with flax or chia eggs. Whip up the pancakes on a lazy weekend morning then batch cook the muffins for ready-to-go weekday breakfasts.
Find out more
NadaMoo
19NadaMoo's Pumpkin Pie Ice Cream
This seasonal flavor won't hit shelves until early October (really, as it should), but you can pre-order pints now online. It's well worth the wait. NadaMoo!'s creamy, never icy, coconut milk base is infused with pumpkin puree, brown sugar, and warming spices then swirled with toothsome, crumbly pie crust pieces. Top a scoop with a dollop of whipped cream, and this ice cream is a fair stand-in for actual pumpkin pie.
Find out more
Rickaroons
20Rickaroons'  Pumpkin Spice Organic Coconut Bar
What is a Rickaroon? Beyond a whimsically fun word to say, a Rickaroon is dessert, endurance fuel, and a snack all rolled into one. Each flavor is made with ingredients you likely have in your cupboard—shredded coconut, spices, coconut oil, coconut nectar, vegan chocolate chips, and nut butter. That's it, and yet Rick knows how to combine these pantry ingredients into an extremely tasty treat. Only here for a limited time, we've stocked up on the seasonal Pumpkin Spice bar … did we mention it has chocolate chips?
Find it here
Three Wishes
21Three Wishes' pumpkin cereal
High-protein cereal is sneaking its way into grocery stores, but some of the options contain whey, so they're a no-go if you're seeking a plant-based option. The gluten-free and grain-free brand Three Wishes makes its o-shaped cereal with chickpea and pea protein, delivering eight grams per serving. The seasonal pumpkin spice flavor tastes lightly sweet with a hint of the famous fall spices. It didn't get soggy in milk, so it maintained a pleasant crunch throughout breakfast.Find out more
Blume
22Blume Pumpkin Spice Blend
Sometimes you want a warm and comforting drink, but without the jolt of caffeine. Blume's caffeine-free and superfood-powered powdered "lattes" are a good fit for these late afternoon cozy cravings. The Pumpkin Spice blend is made with real organic pumpkin and spices and is sweetened with maple syrup, but at one gram of sugar, it's not overly saccharine. We added it to warm oat milk and foamed it up using a hand milk frother. No, it's not as creamy as a beverage you'd purchase from the cafe, but scratches the itch and saves you at least $4. 
Find out more
Larabar
23LÄRABAR Pumpkin Pie bar
We may not be ready for a whole pumpkin pie in September, but we are down for a pumpkin pie-flavored snack bar. LÄRABAR's Pumpkin Pie bar is a returned seasonal favorite and we're glad to see it back. This cashew and date-based bar also contains real pumpkin, apple, and almond, plus all of the spices that you'd expect to find in the beloved holiday dessert.
Find out more
La Colombe
24La Colombe Oatmilk Pumpkin Spice Latte
We don't always have the time to wait in line for a latte (even mobile ordering is a slight time suck), which is why we always keep a canned latte or two in the fridge. This year, coffee roaster La Colombe launched a decadently creamy oat milk version of its Pumpkin Spice Latte. We love that it's not a total sugar bomb and that the coffee is nitro cold brewed, so it goes down smooth.
Find out more
Partake
25Partake Soft-Baked Pumpkin Spice Cookies
This Rihanna-backed brand is 100 percent vegan and free from the top nine allergens including gluten, soy, and nuts. The soft-baked pumpkin spice cookies are brimming with warm notes of cinnamon, nutmeg, and ginger as well as caramelized sugar. We love pairing it with a big glass of oat milk.
Find out more
Tracy's Real Foods
26Tracy's Real Foods Sunny Pumpkin Oat Muffins
Keep these pumpkin-infused, whole food muffins in your freezer and you'll be set for breakfasts and snacks all season long. Tender and moist, these wholesome baked goods are packed with tart dried cranberries, sweet chocolate chips, and yes, even real pumpkin. Simply reheat in the oven (and slater with optional vegan butter) for a delightful and nutrient-dense mini-meal whenever the pumpkin craving calls. 
Find out more
For more vegan pumpkin goodness, read:
5 Mouthwatering Vegan Pumpkin Recipes to Try This Season
Vegan Pumpkin Pie Cupcakes
Easy Vegan Pumpkin Pie Recipe
This content was originally published here.