The Avengers will once again assemble on July 20, 2022, when Disney's second Avengers Campus opens in Walt Disney Studios Park at the Disneyland Paris Resort – only this time, Tony Stark (aka Iron Man) is more involved.
The Worldwide Engineering Brigade (WEB) in Avengers Campus at the Disneyland Resort is housed in an abandoned Stark Automotive factory, but other than that connection to his dad, Iron Man's presence in California is limited to meet-and-greets outside Avengers Headquarters.
However, things will be different at Marvel Avengers Campus in Paris, which Walt Disney Imagineering's Global Marvel Portfolio Creative Executive Scot Drake says is "the next step in Tony Stark's vision for training more heroes for the future."
Rock-et Through Space with Iron Man
The French campus was not only created by Tony Stark to train the next generation of superheroes, but recruits will participate in a mission with Iron Man and Captain Marvel to (what else?) save the universe on Avengers Assemble: Flight Force.
"I am so excited to be reprising my role as Captain Marvel for a super thrilling attraction in Disneyland Paris in the New Avengers campus opening this summer," said Captain Marvel herself, Brie Larson. "Get ready to go higher, further, faster."
Before boarding the high-speed rollercoaster exclusive to Disneyland Paris (formerly Rock 'n' Roller Coaster Starring Aerosmith), recruits will be briefed (in both English and French) by a next-gen fully-electric audio-animatronic Iron Man figure in brand-new Mark 80 armor exclusively designed for missions at Avengers Campus.
Calling all recruits! Iron Man has an important announcement to make.#AvengersCampusParis pic.twitter.com/dY1sIa2KoE
— Avengers (@Avengers) May 24, 2022
Appel à toutes les recrues ! Iron Man a une annonce importante à faire.#AvengersCampusParis pic.twitter.com/Z6TSqZSBPP
— Disneyland Paris (@DisneylandParis) May 24, 2022
The new Iron Man figure is also being touted as the first Avenger audio-animatronic in a Disney Park – unless you count Rocket on Guardians of the Galaxy: Mission Breakout at California Adventure (which I do).
During the ride, recruits 47 inches and taller will be launched "into space" from zero to sixty miles per hour in less than three seconds to "fly" through three inversions, two rollover loops, and one corkscrew in specially-designed vehicles Stark equipped with a homing device to lure threats away from Earth. Piece of cake.
Your Friendly International Spider-Man
The family-friendly Web Slingers: A Spider-Man Adventure has made its way to France as Spider-Man W.E.B. Adventure, where poor Peter Parker still hasn't been able to control his Spider-Bot sidekicks.
Once again, recruits must help Spider-Man capture the pesky bots before they destroy the entire campus, and like its U.S. counterpart, Spider-Man W.E.B. Adventure has no height requirement, so recruits of all ages can get in on the web-slinging action.
Rencontrer et Saluer (Meet and Greet)
Guests will have the opportunity to interact with Iron Man, Captain Marvel, and Spider-Man in a new building unique to Marvel Avengers Campus in Disneyland Paris called the Training Center, where they can participate in a "freeze-frame" video sequence created by Disney PhotoPass.
Available for booking through the Disneyland Paris mobile app, this innovative experience – a first for any Disney park – captures the meeting with 27 cameras to turn ordinary meet-and-greets into unforgettable heroic encounters.
Avengers are regularly seen out and about on the campus at Disney California Adventure, so it's no surprise that the superheroes of Marvel Avengers Campus in Paris will also be accessible to guests, but the resort promises "in more interactive and exciting ways than ever before."
That includes not only surprise live-action stunts, a Guardians of the Galaxy dance-off, and training exercises with the Warriors of Wakanda, but also a Gateway Portal that allows recruits to capture the moment they meet their favorite heroes.
"[marvel Avengers Campus at Disneyland Paris] is really a unique place like you've never seen before," said Creative Director at Walt Disney Imagineering Paris Beth Clapperton. "Prepare to be a part of the bigger universe – and there's a surprise and every corner so you'll never know who you might bump into."
Another Disneyland Paris exclusive is "F.R.I.D.A.Y.," the famous Artificial Intelligence designed by Tony Stark and uploaded to the Avengers Headquarters façade to welcome recruits to the campus, monitor for threats, and signal the arrivals and departures of Avengers.
Saving the Universe Works Up An Appetite
The quick-service Stark Factory (previously the Blockbuster Café) is housed in a Howard Stark-era assembly line and serves up homemade pizzas, salads, and fresh pasta.
The building itself features relics of S.H.I.E.L.D.'s earlier activities and artifacts built by Tony Stark, including the life-sized "HulkBuster" suit he created for the Hulk with the help of Bruce Banner.
Thanks to the same red and blue Pym Particles that allow Ant-Man and the Wasp to grow and shrink, the menu at Pym Kitchen (previously Restaurant des Stars) includes gigantic pretzel sandwiches, hot dogs, burgers, and cakes, along with tiny versions of those dishes for recruits with smaller appetites (or who just want to try everything).
Question: Since the California location is called Pym Test Kitchen, are we to assume Pym scientists experiment with new recipes there but not in France?
Adults can also sample blue chardonnay, red vials filled with red wine, or a flight of four tiny beers, plus a colorful blue and red signature cocktail or the superhero-worthy "superfood cocktail" made with blue chardonnay, Perrier, Martini, and dried goji berries.
There may be no Shawarma Carts in Paris, but there are two food trucks: The WEB (Worldwide Eating Brigade), run by WEB workshop inventors and serving Asian noodles and coconut balls, and the FAN-tastic Food Truck (Tony Stark's favorite) serving New York-style hot dogs (including vegan sausages) with a variety of sauces and toppings and cheesecake on a stick for dessert.
Last but not least, the Super Diner (where agent Peggy Carter's best friend worked as a waitress) features an "All-American" signature dish: Reuben sandwiches made with corned beef, cheese, and sauerkraut grilled between slices of rye bread.
Must-Have Merch
Recruits at the California Adventure campus get their gear at WEB Suppliers and Campus Supply, but in Paris, the Mission Equipment shop will be the spot for official Avengers Campus and WEB merch.
Also available at Mission Equipment are WEB Tech accessories that help riders battle the Spider-Bots on Spider-Man W.E.B. Adventure, including WEB Power Bands that unlock advanced functions or channel powers of specific superheroes like electro-dynamic webs from Spider-Man, repulsor blasts from Iron Man, and a mystic amplifier from Doctor Strange.
Recruits looking to adopt their own Spider-Bot can enhance its battle capabilities with tactical upgrades inspired by Iron Man, Black Widow, or Black Panther (with more to come).
Twin Quinjets
Differences between California and Paris aside, the icon that represents both lands – and connects the storytelling from California to Paris – are the Imagineering-designed Quinjets perched atop Avengers Headquarters in both campuses.
"When we started imagining Avengers Campus, we immediately thought of creating a powerful centerpiece that would draw guests into the heart of the action, thus encouraging them to bring out their inner superhero," Drake wrote in the Disney Parks Blog. "We also looked for a symbol of the global interconnection between the campuses, and the idea of the Quinjet quickly emerged as the most iconic piece of Avengers equipment that would rally superheroes around the world."
Discount Disney Theme Park Tickets & Hotels!!!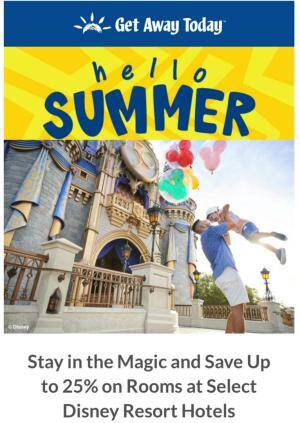 MiceChat works with Get Away Today to bring you the BEST theme park ticket, hotel & package deals! (You'll find extra nights free, big discounts, and special offers as well).
Check out the latest offers for Disneyland, Walt Disney World, Universal Studios, and Knott's Berry Farm:
(MiceChat works with Get Away Today to provide you with the best theme park travel deals and we may make a small commission on any sales made through our links)
Let's Hear From You!
What do you think of Marvel Avengers Campus at Disneyland Paris? Do you like that there are differences between the two campuses or do you think Imagineers should have duplicated the U.S. campus in France?
This content was originally published here.