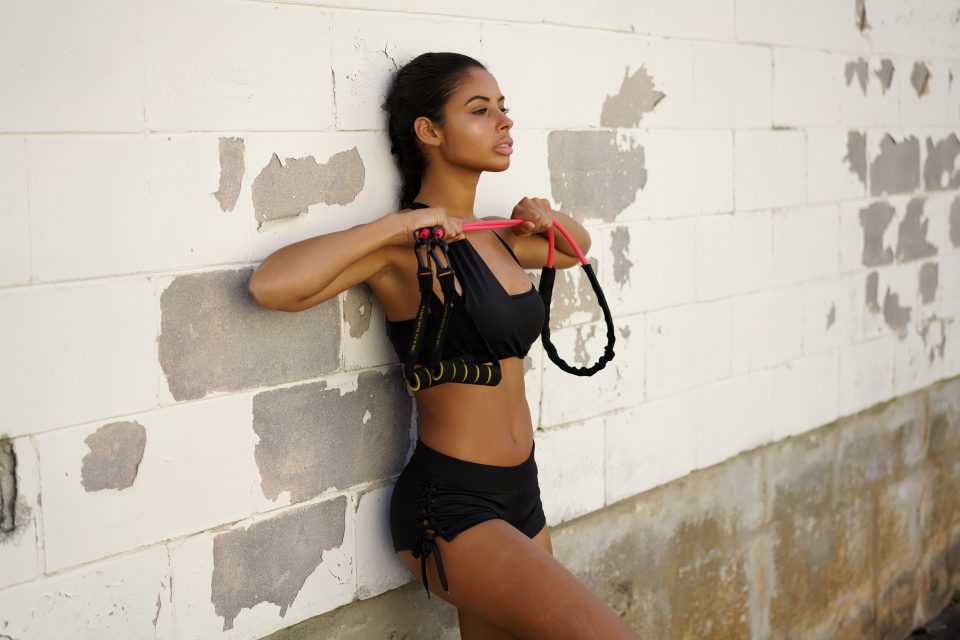 Whether you are a die-hard Zumba fan, love kickboxing or can't get enough of your cycling class, staying active is the key to a healthy lifestyle. If you're headed to class in your age-old over-sized t-shirt and black leggings, then its time for a change.
If you're looking for a way to spice up your workout wardrobe, Tia Robison has got you covered. The active dance enthusiast created her contemporary lifestyle brand, Vertical Activewear in 2017. The brand features fashionable, high performance, and interchangeable pieces including sports bras, leggings, tops, and shorts. We spoke to Robison about how she is inspiring and motivating women to feel confident with her brand.
What was the driving force behind creating Vertical Activewear?
I started pole dancing in 2009 and there were no activewear lines that made clothing for our workout type. Fast forward almost 10 years, the industry has grown significantly, yet the fitness apparel market still remains fragmented. I felt it was time to do something, and thus Vertical Activewear was born. The brand is for women who are committed to self-awareness, self-expression and self-care.
How did you develop the name Vertical Activewear?
Vertical is an industry term used in dance and alternative fitness industries- think of the terms "vertical lines" for dance or "going vertical" (taking risks) for extreme . We decided to name the brand something that would resonate with the alternative fitness community and encourage customers to reach their highest goal or to move outside of their comfort zones.
What is special about Vertical Activewear? 
We specialize in dance and booty shorts, but we also carry leggings, bodysuits, sports bras and fashion-forward apparel that can be interchanged and worn inside or outside the gym or studio. Our apparel comes in sizes XS-XXL and we have a variety of pieces that work for a variety of body types. We use a mix of performance and mesh fabrics that are suitable for both inside and outside. Our fabric contours, conceals and supports [the body] yet is comfortable, stylish and functional. There are not very many black women-owned activewear companies, so it is our goal to showcase more diversity in the industry overall. 
What is your new line going to entail?
The new line acts as the modern response to the evolution of fitness. It features high-performance, interchangeable pieces that don't require you to purchase your gym, leisure, dance, yoga or pole wear separately. We use a mix of performance and mesh fabrics that are suitable for both inside and outside of the studio. Our line is for the woman that is bold, adventurous, self-aware and always looking to extend herself outside of her various aspects of life including her personal fitness comfort zone.