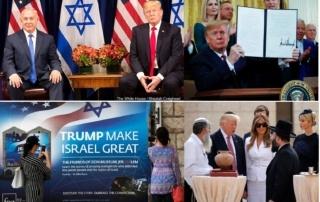 by Brian Shilhavy
Editor, Health Impact News
Former US President Donald Trump stated today that he is so popular in Israel, that he could "easily" be the Prime Minister there.
And while he claims he is so popular in Israel, he acknowledged that Evangelical Christians are "far more appreciative" for what he has done for Israel, than "people of the Jewish faith" living in the U.S.
The statement was made on his Truth Social platform.
Donald Trump continues to take credit for what he says was one of the greatest achievements of his term serving as President, which was forcing the FDA to grant emergency use authorization (EUA) for the COVID-19 vaccines.
Here at Health Impact News, we gave extensive coverage in 2020 to the $BILLIONS of government funds that were being handed out like candy to Big Pharma to produce COVID-19 vaccines, and the early front-runners to get the first nod from the FDA for an EUA COVID-19 vaccine were Anthony Fauci's funded Moderna, and Bill Gates's funded Astrazenca shots.
When Pfizer joined the mix, it raised some concerns, as their deal with the U.S. government and Operation Warp Speed was reportedly different from the other drug companies, and was conditioned upon getting approval from the FDA, something Astrazenca never obtained in the U.S.
The deal with Pfizer reportedly also did not involve intellectual property rights. NPR reported:
When the Department of Health and Human Services released Pfizer's $1.95 billion coronavirus vaccine contract with Operation Warp Speed last Wednesday, the agreement revealed that the Trump administration didn't include government rights to intellectual property typically found in federal contracts.

The drugmaker has downplayed its involvement in Operation Warp Speed, the Trump administration's more than $10 billion program to make a coronavirus vaccine available in record time. Although Pfizer didn't receive government funding this spring toward research and development of the vaccine, it nevertheless received one of the largest Operation Warp Speed supply contracts to date on July 21.

Pfizer is working on the vaccine with BioNTech, a German company. They announced results of final efficacy analysis last Wednesday, revealing that the vaccine is 95% effective. The company announced that it submitted its request for emergency use authorization on Friday.

That nearly $2 billion contract will pay for 100 million doses of the Pfizer vaccine at a price of $19.50 per dose if the vaccine is OK'd by the Food and Drug Administration. The government also has the option to buy up to 500 million more doses. The other Operation Warp Speed agreements pay for vaccines regardless of FDA approval or authorization.

Meanwhile, the Pfizer contract has the narrowest protections for taxpayers of any Operation Warp Speed contract released so far, drug policy and intellectual property experts tell NPR. It excludes almost all intellectual property rights, forgoing leverage to use if the company engages in price gouging down the road. It may also set a dangerous precedent for future government contracts, they say.

Pfizer didn't respond to repeated requests for comment for this story. (Source.)
Pfizer ended up being the first company to get an FDA EUA for what became the first, and most lucrative, COVID-19 vaccine, but it took threats from President Trump to fire then FDA head Stephen Hahn if he did not approve the Pfizer shot.
Multiple news outlets reported today that the White House has informed the FDA that if they do not approve the new experimental Pfizer COVID vaccine by the end of the day today, Friday, December 11, 2020, that Stephen Hahn, the head of the FDA, would be fired.

This follows a Twitter storm by the President earlier in the day where he Tweeted:

While my pushing the money drenched but heavily bureaucratic @US_FDA saved five years in the approval of NUMEROUS great new vaccines, it is still a big, old, slow turtle. Get the dam vaccines out NOW, Dr. Hahn @SteveFDA. Stop playing games and start saving lives!!!

The Swine Flu (H1N1), and the attempt for a vaccine by the Obama Administration, with Joe Biden in charge, was a complete and total disaster. Now they want to come in and take over one of the "greatest and fastest medical miracles in modern day history." I don't think so!

I just want to stop the world from killing itself!

Health Impact News opposes the President 100% on this issue, as we, along with many other organizations, have called upon the FDA to NOT approve the dangerous new Pfizer COVID vaccine that literally thousands of medical doctors and scientists around the world have said is too dangerous to approve, as it will result in deaths, brain injuries, autoimmune diseases, infertility and more. (Source.)
Shortly after getting the FDA nod for the first COVID shot in the U.S., Israel agreed to an exclusive deal with Pfizer in return for sharing data on its population, effectively making Israel the world's laboratory for the experimental Pfizer COVID-19 injections.
Vera Sharav broke the story which we published:
Government Consigned Israeli Population to be Human Subjects in a Massive Experiment

BBC: "Israelbought large stocks of the [Covid-19] jab in exchange for acting as the world's guinea pig."

On November 18, 2020, Israel's senior health officials were caught unprepared when Pfizer announced that its vaccine was "90% effective" (revised to 95%) against Covid-19.

They had ordered millions of vaccine doses from Moderna and AstraZeneca but none for the Pfizer-BioNTech vaccine.

How then, did Israel procure an estimated four to five million doses of the Pfizer vaccine in December 2020 – enough to vaccinate at least two million people?

Benjamin Netanyahu- Donald Trump

Prime Minister Binyamin Netanyahu sought to show that he singlehandedly saved the day; as did Donald Trump when he launched Operation Warp Speed, to accelerate the production and distribution of Covid-19 vaccines.

Both heads of state entered into secret contracts with vaccine manufacturers. Both failed to disclose to their constituents that the COVID-19 (mRNA) vaccines are experimental. (Full Story.)
Marvel Studios recently released an advertising campaign pushing the Pfizer COVID vaccines. As Summit News reported:
Marvel has come under criticism for producing a paid for comic book to promote Pfizer's mRNA COVID vaccines.

The comic features The Avengers characters, comparing them to "everyday heroes who fight to protect their community" by dutifully taking Pfizer vaccines and campaigning for others to do the same.

A LinkedIn post by Pfizer announced "Today, Pfizer and BioNTech announced our new collaboration with Marvel Comics."

The post continues, "Together we created a custom comic book featuring the Avengers who fight to protect their community. We hope that people around the world enjoy reading the comic book… At Pfizer, we encourage people to come together to help protect themselves by staying up to date with COVID-19 vaccinations." (Full article.)
So who controls Marvel Studios?
Last month (September, 2022), Mint Press News ran an investigative report titled: MARVEL HEADS REVEALED TO BE CLOSELY CONNECTED TO ISRAELI INTELLIGENCE.
Some excerpts:
Earlier this month, activists and comic book fans alike were in uproar over Marvel Studios' announcement that Israeli actress Shira Haas will play Zionist superhero Sabra in the upcoming Marvel Cinematic Universe (MCU) film Captain America: New World Order.

Marvel appears closely connected to the Israeli government and its main intelligence agency Mossad.

Many individuals who have held or still maintain roles at Marvel are associated with the Israeli military, Israeli intelligence and Zionist institutions that uphold apartheid. For instance, Isaac Perlmutter, the current chairman of Marvel Entertainment who served on Marvel Comics' board of directors until 1995, grew up in 1948-occupied Palestine (or modern-day Israel) and served in the Israeli military during the 1967 Six-Day War. Avi Arad, the CEO of Marvel Entertainment, also grew up in modern-day Israel and served in the Israeli army during the Six-Day War.

Along with his wife, Laura, Perlmutter oversees a foundation that contributes to several pro-Israel causes such as the Anti-Defamation League, Friends of the Israel Defense Forces, the America-Israel Friendship League, the Jewish Federation of Palm Beach County in Florida, and the Jewish Agency for Israel. The Laura and Isaac Perlmutter Foundation has also supported the Hebrew University and Israel's Technion Institute of Technology.

The Perlmutters are also heavily linked to the Trump family. In 2016, their organization donated $25,000 to the Eric Trump Foundation. According to Open Secrets, a campaign finance tracker, in 2016, Laura Perlmutter donated $5,400 to former President Donald Trump's campaign and nearly $450,000 to the Trump Victory Committee, a joint fundraising initiative by the Trump campaign and the Republican National Committee. The couple then gave more than $1 million to the Trump Victory Committee in 2019 and 2020 and contributed another $11,200 to Trump's reelection campaign in 2019.

President Trump shakes hands with Isaac "Ike" Perlmutter, an Israeli-American billionaire and the CEO of Marvel on April 27, 2017. Andrew Harnik | AP

Isaac Perlmutter donated $5 million in 2016 to the Great America PAC, a super political action committee (PAC) supporting Trump. The couple also contributed $10.5 million in 2020 to American First Action, a PAC supporting Trump. In addition, Both Perlmutters have backed several state and federal Republican entities and candidates over the years. The hefty donations did not go unnoticed, earning Isaac a spot in shaping policies at the Department of Veteran Affairs during Trump's time in office, according to an investigation by ProPublica.

Early Marvel Comics' investors Carl Icahn and Ronald Perelman are also tied to both Israel and Trump. Icahn donated $5,400 to Trump's 2016 presidential campaign and was subsequently named Trump's special adviser

Both Perelman and Icahn were revealed as potential donors to former Israeli Prime Minister Benjamin Netanyahu's campaign ahead of the 2007 primary elections. Perelman's foundation has also contributed to several pro-Israel organizations, including the Chabad Lubavitch's social services agency, Machne Israel, and the Jewish National Fund, which is a leading organization in establishing illegal Israeli settlements and displacing Palestinians.

Perelman also donated $125,000 to Trump's Victory Committee in 2017 and is reportedly friends with Trump's son-in-law, Jared Kushner. He was also listed in convicted sex trafficker Jeffrey Epstein's address book. (Full article.)
Pfizer CEO Albert Bourla, of course, is also a Jew, born in Greece.
Yes, no wonder Donald Trump could "easily" be elected as the Prime Minister in Israel.
And it is also no surprise that the pro-pharma pro-Zionist Evangelical Church supports Trump's actions in Israel.
Evangelical leaders such as Albert Mohler, president of the Southern Baptist Theological Seminary, urged Christians to get the COVID-19 shots, as did Evangelical powerhouse Franklin Graham, head of Samaritan's Purse, which also ran vaccine clinics at churches and other events to inject as many people as possible, and told his 9.6 million Facebook followers that: "I think Jesus Christ would advocate for people using vaccines and medicines."
See:
Trump, Israel, and Evangelical Christians – what could go wrong? They have "God" on their side, and Pfizer too.
Of course if enough Republicans turn against Trump because of his involvement with the COVID-19 vaccines, they have a backup plan with Florida Governor Ron DeSantis, who is being primed to be against the COVID shots, even though everyone in Florida can still get them.
See Also:
Understand the Times We are Currently Living Through
The post Trump Claims he could "Easily" be Israeli PM – Is this why Pfizer Received First COVID Vaccine Authorization in U.S. and Exclusive Rights in Israel? first appeared on Health Impact News.
This content was originally published here.