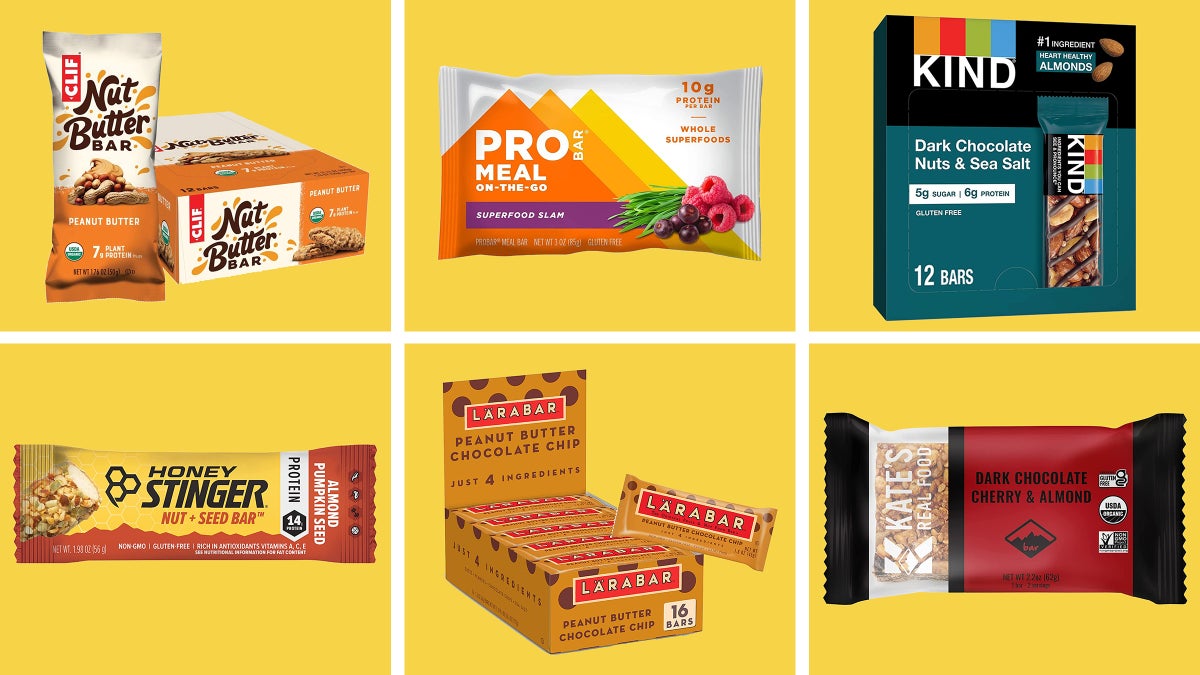 Energy bars are a staple for many hikers, backpackers, runners, and skiers, providing essential calories and nutrients in a portable format. But when you're getting your heart rate up on a hike, run, or ride, it can be hard to motivate yourself to eat, even when you need food the most. So, it helps to bring tasty snacks that you actually want to eat. With the help of a team of outdoor enthusiasts who eat energy bars regularly, both during activities and to fulfill daily caloric needs, we taste-tested 25 products across 12 brands. We primarily considered flavor and texture to figure out which bars were the most delicious, while also factoring in portability: the size of the bar and its ability to withstand different temperatures—and some minor squishing—in a backpack. Here are our results.
Best All-Around: Kind Nut Bar ($17.50 for 12)
Flavors Tested: Dark Chocolate Nuts & Sea Salt, Dark Chocolate Cherry Cashew
Texture: 5/5
Portability: 5/5
If you're looking for an easy-to-eat snack bar, Kind Nut Bars are one of the tastiest. They were the most well-liked across our testing list, appealing to a wide range of palates. We also love that they don't have the processed mush feel of many energy bars; they're light and crunchy with plenty of whole nuts. One of Kind's best sellers—and a crowd favorite—is the Dark Chocolate Nuts & Sea Salt, hitting the spot as both a salty and sweet snack. At the end of testing, everyone expressed that we would bring these bars on hikes or take them to work for a midday snack.
One note: While the nut bars are perfect for backcountry endeavors (it's difficult to smash them), they only have about 180 calories and six grams of protein each, so they're not as filling as a meal replacement energy bar. But they will provide fast-hitting energy when you need it most.
---
Best Newcomer: Honey Stinger Nut and Seed Bar ($36 for 12)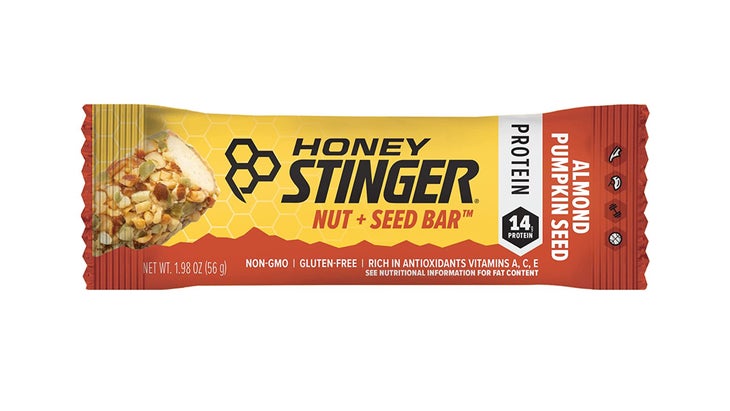 Flavors Tested: Almond Pumpkin Seed
Texture: 5/5
Portability: 4/5
A relative newbie, the Honey Stinger Nut and Seed Bar is coming in hot. With a combination of seeds, nuts, a layer of caramel, and a nougaty nut butter center, this energy bar seems like a candy bar without artificial ingredients. We'd reach for this bar again and again for all outdoor endeavors, at any time of year. Unlike many bars that are high in protein but have a chalky texture or artificial taste, this bar manages to pack in 14 grams of protein and still be delicious.
---
Best for Mid-Activity Fuel: Luna Bar ($20.57 for 15)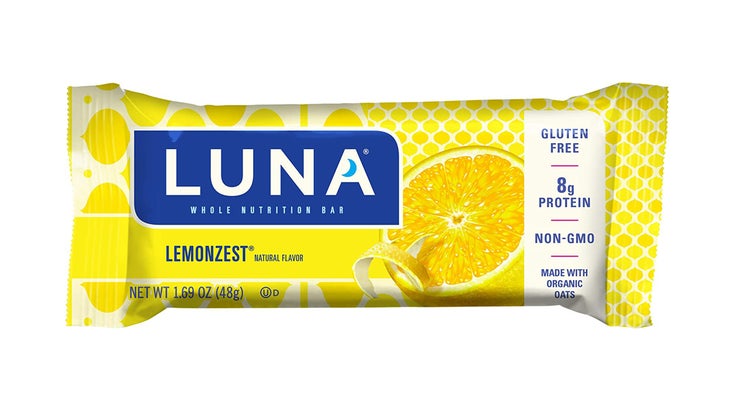 Flavors Tested: LemonZest, Chocolate Peppermint Stick, Chocolate Dipped Coconut
Texture: 4/5
Portability: 5/5
These brand's bars are flavorful and include fun tasting notes, like the pop of citrus in LemonZest and the cool mintiness of the Chocolate Peppermint Stick. The grain base is light and airy with a crunch, so it's easy to eat no matter how hard you're working. Coating the bottom of each bar is a layer of icing, so they're perfect for hikers and runners who crave mid-activity sugar.
---
Best Update On the Classic: Clif Nut Butter Bar ($19.74 for 12)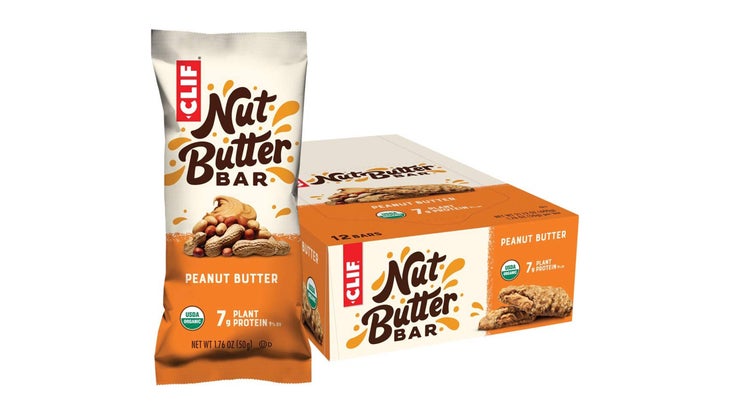 Flavors Tested: Peanut Butter
Texture: 5/5
Portability: 4/5
Clif Bars were one of the first outdoor-specific energy bars on the scene, launching in 1992. I spent years devouring them as my main trail snack, so much so that you'd be hard-pressed to find me with a traditional Clif bar in hand these days. However, these filled bars are a different story. Their oat-y exterior is stuffed with creamy nut butter, creating a soft, pleasant texture. Testers' only complaint was that they break apart easily, so they might not survive days in a pack.
---
Most Filling: Pro Bar ($40 for 12)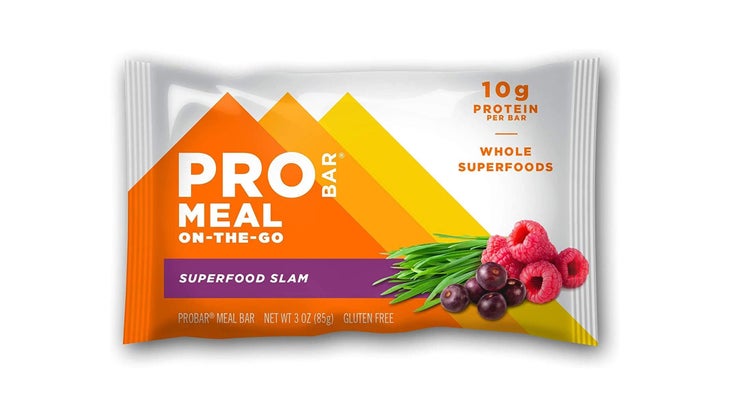 Flavors Tested: Superfood Slam, Peanut Butter Chocolate Chip
Texture: 5/5
Portability: 3/5
Some energy bars can be hard to stomach, especially when they're dense and protein-packed, but Pro Bars somehow manage to be hearty and delectable. (Maybe the high sugar content, with 20 grams per serving, is why we love them.) Because these filling meal bars have a whopping 350 to 400 calories each, you can skip the lunch preparation and dive straight into your adventures. However, they're not the most portable option, as they're too large to stow in a pocket while running.
---
Best Organic: Kate's Real Food Bar ($29.88 for 12)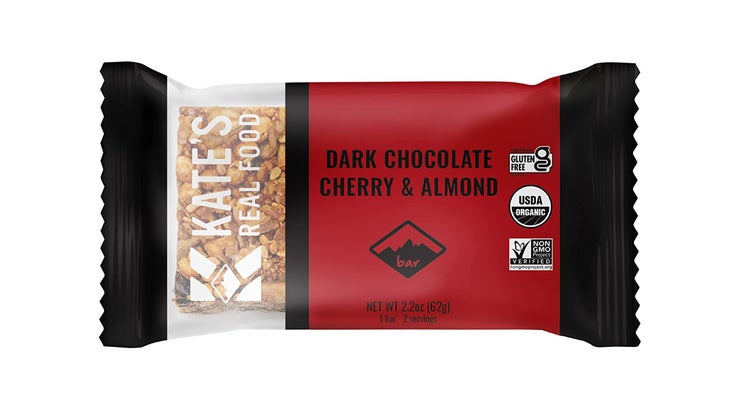 Flavors Tested: Dark Chocolate Cherry & Almond, Peanut Butter Dark Chocolate
Texture: 3/5
Portability: 4/5
With 100 percent organic ingredients, Kate's Real Food bars have garnered attention from hikers and backpackers for their natural flavors. They maintain a light, crisp taste while packing in 260 to 300 calories per bar. But because they don't have a gooey, artificial binding agent to hold them together like others on this list, the Real Food bars get a little crumbly when you pick them up. The Dark Chocolate Cherry and Almond ranked well across the board, while the Peanut Butter Dark Chocolate wasn't as popular because of its earthy aftertaste.
---
Best for Cold Activities: Perfect Bar ($24 for eight)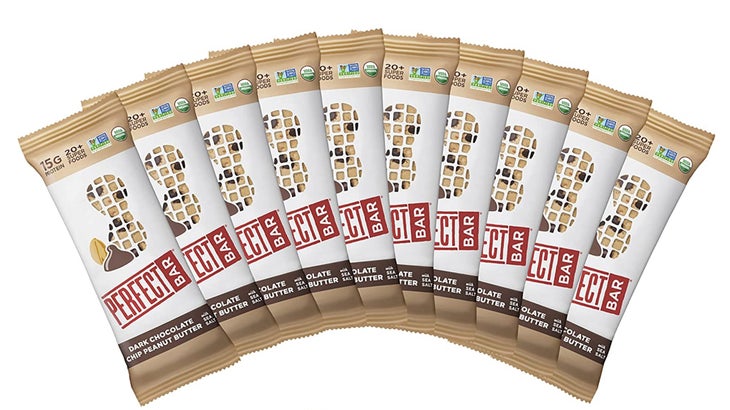 Flavors Tested: Dark Chocolate Chip Peanut Butter, Salted Caramel
Texture: 3/5
Portability: 2/5
Perfect Bars are an ideal snack for ski-touring and snowshoeing because they don't freeze as easily as other bars, and they're calorically dense, which will help you stay warm. The Dark Chocolate Chip Peanut Butter is my go-to snack in the cold months, but these bars ranked lower on our list because some testers didn't love their thick and fudgy texture. Plus, they need to be refrigerated, so they become melty and sweaty on hot days. (Unless you have a major sweet tooth, skip the Salted Caramel flavor and opt for the brand's more standard options.)
---
Tamest Flavors: Skratch Labs Anytime Energy Bar ($30 for 12)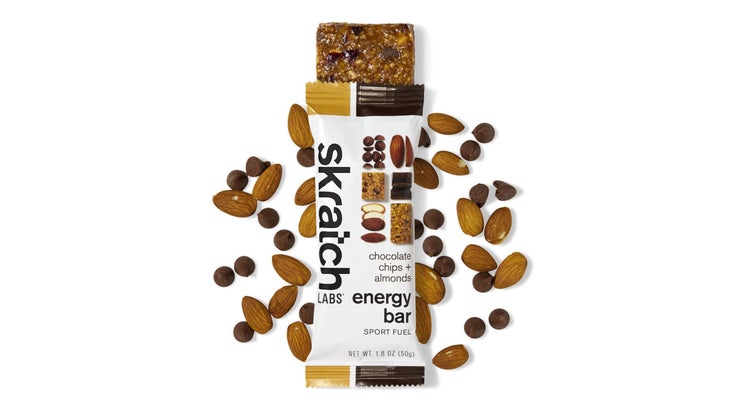 Flavors Tested: Cherries + Pistachios, Chocolate Chips + Almonds
Texture: 4/5
Portability: 4/5
Skratch Labs energy bars have a similar texture and appearance to Kate's Real Food bars, but overall, the flavors were more muted and indistinct (the Cherry and Pistachio, which sounds divine, were mostly just grain-heavy). These bars don't live up to the impressive lineup of other Skratch products, like their electrolyte mix and drool-worthy Green Tea Matcha and Lemon energy chews.
---
Good for Snacking: Larabar ($16 for 16)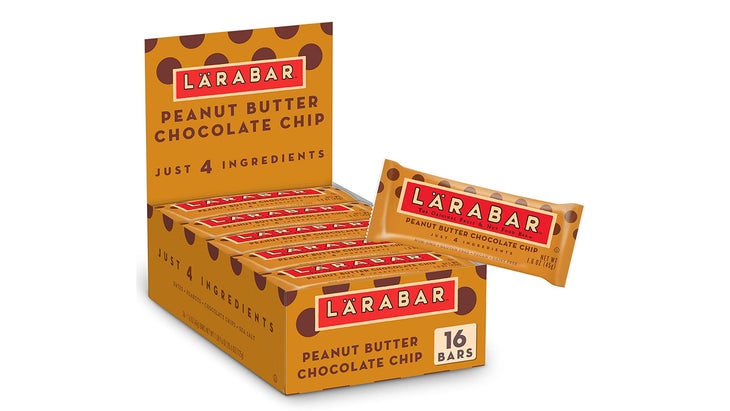 Flavors Tested: Peanut Butter Chocolate Chip, Cashew Cookie, Cherry Pie
Texture: 3/5
Portability: 5/5
With only two or three ingredients per bar depending on the flavor, Larabars are great for snackers who want to keep it simple or anyone who is gluten-free. For fruit fans, the Cherry Pie flavor was our favorite because it had a soft, gooey texture and delightfully sweet flavor. This texture isn't consistent throughout the line of bars, though—some, like the Peanut Butter Chocolate Chip bar, were a bit too chalky. But while most of the flavors failed to blow us away, overall, Larabars are simple and easy to eat.
---
Most Divisive: GoMacro MacroBar ($37.39 for 12)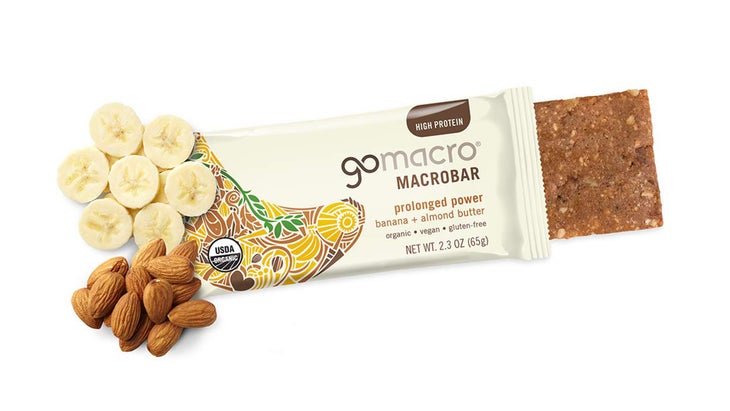 Flavors Tested: Lemon, Banana + Almond Butter, Salted Caramel + Chocolate Chips
Texture: 2/5
Portability: 4/5
GoMacro bars were a bit divisive among our testing group: some loved them and ranked them near the top of their list, while others couldn't get over their slimy, pasty texture. (One tester even compared them to Play-Doh.) Although the flavors ranked middle of the pack, these bars have their place as a meal replacement bar that's packed with nutrients and protein. They also work for many with dietary restrictions, like the FODMAP diet.
---
Most Cake-Like: Bobo's Oat Bars ($29.88 for 12)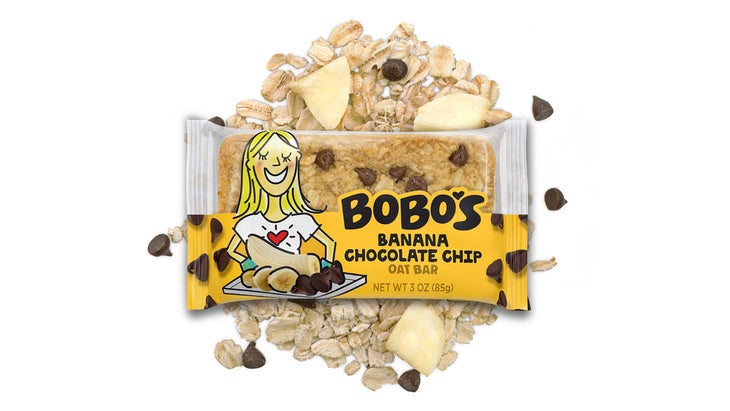 Flavors Tested: Banana Chocolate Chip, Lemon Poppyseed
Texture: 3/5
Portability: 3/5
These energy bars from Bobo's are quite different from others on the list: more like a baked good than energy bar, this brick of oats is a heavy, satisfying option for when you need a substantial snack. But while both flavors we tried were quite good (with Lemon Poppyseed more popular than Banana Chocolate Chip), the bars tend to get dry and hard to chew, so be sure to have water handy.
---
Simplest: RxBar ($40.75 for 24)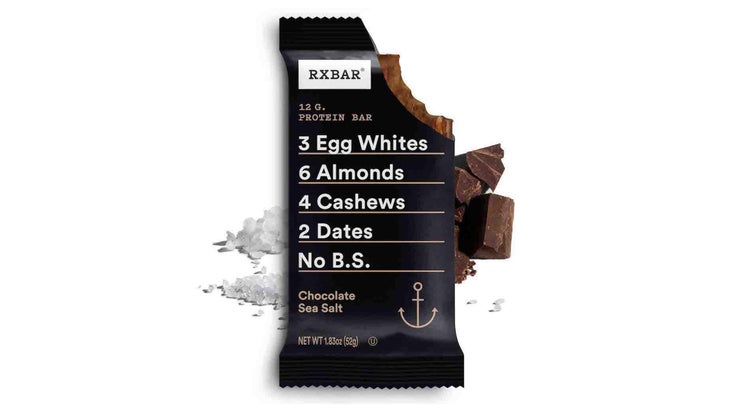 Flavors Tested: Chocolate Sea Salt, Maple Sea Salt
Texture: 2/5
Portability: 5/5
RxBars are a great choice for those with dietary restrictions because you know exactly what you're getting with each one; the simple ingredients are laid out in large print on the packaging. However, most testers felt that they were too sticky and hard to chew. And while we were impressed by the flavor of the Chocolate Sea Salt, the Maple Sea Salt was a total flop because the flavor was too sweet and concentrated.
The post We Put 25 Energy Bars to a Taste Test. Here Are the Best Ones. appeared first on Outside Online.
This content was originally published here.