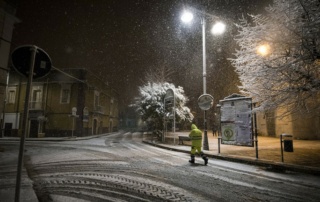 by Brian Shilhavy
Editor, Health Impact News
Winter is about to descend on Europe, and due to energy shortages and resulting food shortages as well, millions of people's lives are at stake.
I have often been accused in the past of using "hyperbole" or "exaggeration" in my headlines to promote fear.
But I disagree. I have no editors, bosses, supporters, funders, or anyone else who holds leverage over me as a publisher, and I seek to publish the truth that is often not published elsewhere.
I have had other publishers in the Alternative Media email me from time to time and write things like: "Hey, that was a great article you wrote, but can you change the headline so we can publish it on our site also?"
No. I will not be censored, at least not willingly. I have had judges, district attorneys and other attorneys, including some of the top law firms in the United States, threaten me if I did not take down certain articles, and I have never once complied, ever.
And I am still publishing today. That's the way it works when Satan's minions have no leverage over you, as not even the threat of death would sway me, as I welcome the day I leave this body and sin-cursed world and join my Savior in the Kingdom of God.
If someone were to offer me a choice today, to either continue working and doing the things I am doing in running my two businesses, or to die and exit this life, I would gladly choose to leave this world right now, today, and avoid what is coming down the road.
But that is not my choice to make. It is God's.
So is Europe about to descend into chaos where potentially millions will die this winter?
For the rest of this article I am going to publish recent news excerpts from other publishers, who may not be bold enough to write a headline like I did for this article, but you decide for yourself if this is hyperbole or not.
London's mayor sounds alarm over winter crisis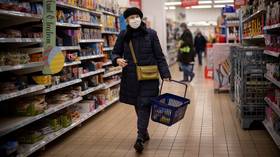 A customer shops at a supermarket in east London. © AFP / Tolga Akmen
by RT.com
Excerpts:
Millions of people in the UK could find themselves unable to put food on the table and heat their homes this coming winter if the government doesn't intervene, London Mayor Sadiq Khan said on Saturday.
"We've seen nothing like this before," Khan wrote on Twitter, referring to soaring energy prices and record inflation of more than 10%.
"We're facing a winter where for millions it won't be about choosing between heating or eating but tragically being able to afford neither," he warned.
"This can't happen," the mayor insisted, adding that the British government "needs to step in so that people can meet their basic needs."
He accompanied the post with a data from the Auxilione energy consultancy, predicting that energy bills in the UK could increase by 80% in October, exceeding £3,600 ($4,292) per year on average. For comparison, the cap set by energy industry regulator, Ofgem, in October 2021 stood at £1,400 per year.
We've seen nothing like this before.

We're facing a winter where for millions it won't be about choosing between heating or eating but tragically being able to afford neither.

This can't happen. Govt needs to step in so that people can meet their basic needs. @BloombergUK pic.twitter.com/bZra2HMFuS

— Mayor of London, Sadiq Khan (@MayorofLondon) August 20, 2022
Read the full article here.
Winter Is Coming For The UK
Excerpts:
Authored by Bill Blain via MorningPorridge.com,
"Tell them the North remembers. Tell them Winter is Coming."
The outlook for the UK looks increasingly grim. There are few reasons to hope a new government can reverse the mounting consumer fears, stagflation and the growing sense of decline.
Yesterday was cold, wet and grey. The sudden end of the glorious summer highlights how dark and bleak the mood in the UK has become. UK Consumer confidence has collapsed to levels not seen since the 1970s.
London has ground to a halt with tube and rail strikes. Its not just the cost of living crisis – which, to be blunt, has only just begun and will get much, much worse as winter deepens– but folk are losing confidence in the broken mechanics of the economy, the absence of leadership and a growing sense things won't get any better.
The country feels like its sinking into a treacle of energy-sucking, suffocating despond. Everything in Britain feels broken: the NHS is too crowded to treat patients, excess death rates show untreated cancers, heart-disease and stokes from lockdown now far outnumber Covid deaths, the police are so overloaded they have stopped even bothering to investigate crime, while airports are blocked, trains don't work, and it really doesn't matter because you can't get a passport or driving licence renewed.
As the rains come down, we're under threat of dire authoritarian punishment if we dare use a garden hose – although to be fair, who is going to arrest you?
Thank heaven we're about to get a new prime minister – SARCASM ALERT.
Do you really expect a bright Sun of Economic Hope to suddenly come up on Sept 5th? If so, go see a shrink – if you can get an appointment.
Read the full article here.
Russian gas transit to EU via Nord Stream to be halted – Gazprom
by RT.com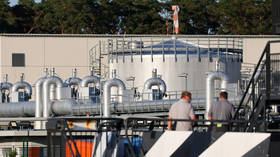 © 
Getty Images / 
picture alliance
Excerpts:
Russian energy giant Gazprom announced on Friday that transit of natural gas to the European Union via the Nord Stream 1 pipeline will be halted from August 31 to September 2 for maintenance.
"On August 31, the only working Trent 60 gas compressor unit will be shut down for three days for maintenance," the company stated, noting that all repairs will be carried out jointly with specialists from the German manufacturer, Siemens.
Gazprom added that "Upon completion of work and the absence of technical malfunctions of the unit, gas transportation will be restored to the level of 33 million cubic meters per day," representing roughly 20% of the pipeline's full capacity.
The unit is the last one of the pipeline's six turbines that was operational, with the rest in need of an overhaul. One of the turbines is currently stranded in Germany due to sanctions, after returning from repair works in Canada.
Russian gas supplies to the EU via Nord Stream 1 dropped to 20% of the maximum level last month. According to Gazprom, five turbines need to be operating to pump gas at full capacity.
European gas prices spiked after Friday's announcement, jumping 7% to above $2,600 per thousand cubic meters.
Venezuela Stops Oil Shipments To Europe As Alternatives To Russian Energy Dry Up
Excerpts:
The writing is on the wall for Europe in terms of this coming winter – It's going to get ugly.  With natural gas imports from Russia cut by 80% through Nord Stream 1 along with the majority of oil shipments, the EU is going to be scrambling for whatever fuel sources they can find to supply electricity and heating through the coming winter.  Two sources that were originally suggested as alternatives were Iran and Venezuela.
Increased Iranian oil and gas exports to the west are highly dependent on the tentative nuclear deal, but as Goldman Sachs recently suggested, such a deal is unlikely anytime soon as deadlines on proposals have not been met and the Israeli government calls for negotiators to 'walk away.'
Venezuela had restarted shipments to Europe after 2 years of US sanctions under a deal that allows them to trade oil for debt relief.  However, the country's government has now suspended those shipments, saying it is no longer interested in oil-for-debt deals and instead wants refined fuels from Italian and Spanish producers in exchange for crude.
This might seem like a backwards exchange but Venezuela's own refineries are struggling to remain in operation because of lack of investment and lack of repairs.  Refined fuels would help them to get back on their feet in terms of energy and industry.
Some of Venezuela's own heavy oil operations require imported diluents in order to continue.  The EU says it currently has no plans to lift restrictions on the oil-for-debt arrangement, which means Europe has now lost yet another energy source.
Read the full article here.
Gas shortages, freezing temperatures, firewood hoarding: Just how bad could things get this winter?
by RT.com
Excerpts:
Natural gas prices across Europe have quadrupled this year. Looking ahead to winter and imagining the new heights energy values may hit, consumers are starting to opt for an alternative (old) form of heating – wood. Huge demand for combustibles, as well as for wood stoves, has been detected in several Western states.
In Germany, where almost a half of homes are heated with gas, people are turning to a more guaranteed energy source. Firewood sellers tell local media that they are barely coping with the demand. The country is also witnessing a rise in cases of wood theft.
Next door, in the Netherlands, business owners note that their clients are buying wood earlier than ever. In Belgium, wood producers are struggling with demand, while prices are going up – as they are across the region.
In Denmark, one local stove manufacturer told the media that, while demand for his product was on the rise since the start of the Covid pandemic, this year's profit is forecast to reach over 16 million kroner (€2 million), compared with 2.4 million in 2019. A huge increase.
Even Hungary, a country that didn't support the EU's decision to phase out Russian fossil fuels and agreed a new gas purchase with Moscow this summer, is making preparations for a tough winter. The country has announced a ban on the export of firewood and relaxed some restrictions on logging. The World Wildlife Fund Hungary has expressed its concern on the matter, declaring:
"There has been no precedent for such a decision in our country for decades."
Read the full article here.
Swiss police warn of winter riots
by RT.com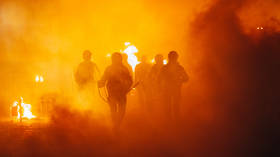 Excerpts:
All bets are off if severe blackouts take place, a top official warns
Swiss people may revolt and resort to looting if the Alpine nation is hit by a severe energy crunch this winter, the police chief of one of its cantons told local media on Saturday.
Fredy Fassler, the head of the Security and Justice Department in the canton of St. Gallen, told German-language daily Blick that a blackout would have "far-reaching consequences."
"Imagine, you can no longer withdraw money at the ATM, you can no longer pay with the card in the store or refuel your tank at the gas station. Heating stops working. It's cold. Streets go dark. It is conceivable that the population would rebel or that there would be looting," he said, adding that the country's authorities should take measures to prepare for such extreme scenarios.
Read the full article here.
Is Russia to Blame for these Shortages, or the United States?
If you live in the U.S., and probably in Europe as well, you've been told repeatedly that all these shortages are Russia's fault.
But there are alternative viewpoints on that.
US has doomed EU to hunger and cold – Russia
by RT.com
Washington has harmed the bloc to serve its own interests, a top Putin ally has warned
The United States has doomed the EU to hunger, cold and isolation by pressuring the bloc to cut its ties with Moscow, Russian State Duma Speaker Vyacheslav Volodin said on Friday.
He wrote on Telegram that Washington would "stop at nothing to cling to its power over the world as it throws under the bus the citizens' welfare and the economies of European countries to achieve this end."
He noted that natural gas in the US costs $333 per 1,000 cubic meters. "At the same time, Washington sells it to Europe for a price which is 7.3 [times] higher, rendering the EU economy uncompetitive," he wrote, adding that the eurozone's annual inflation rate had hit a record 8.9%.
Volodin said Europe had been hit by a heatwave that triggered huge problems in the agriculture sector, as well as an energy crisis which had seen prices soar six times in one year.
The EU's decision to phase out Russian energy supplies and cut economic ties with Moscow "have been made under Washington's pressure," the State Duma speaker claimed.
"US policies in Europe are enforced by England that has left the EU high and dry, as well as by a number of countries that are sovereign in name only – Lithuania, Latvia, Estonia, Ukraine – with Poland, the Czech Republic and Finland joining this Russophobic coalition in the hopes of getting an American handout," Volodin wrote.
Read the full article here.
Back in June this year, we published two articles written by Sam Parker from Behind the News Network, and he too blames the U.S. for current conditions facing Europe, not Russia.
He actually made the bold statement that Russia is not America's enemy, but instead Europe is.
The entire articles are well worth reading:
Here is the excerpt where he blames Europe's problems on the United States:
Competition is a Sin!
This is the motto of the Rockefeller family. America's real adversaries are its European and other allies: The U.S. aim is to keep them from trading with China and Russia.
The creation of NATO was designed by Nelson Rockefeller to "Keep Germany down, Russia out, and the US in." Today's sanctions regime is aimed inward, to prevent America's NATO and other Western allies from opening up more trade and investment with Russia and China. The aim is not so much to isolate Russia and China as to hold these allies firmly within America's own economic orbit.
The Treaty of Rapallo
On April 16th, 1922, in Genoa, Italy, the German delegation dropped a bomb whose shock waves reached across the Atlantic. It was a geopolitical bomb. German Foreign Minister Walter Rathenau announced to the delegates, that Germany and the Soviet Union had entered into a bilateral agreement, whereby Russia agreed to forgive its war claims on Germany in return for a German agreement to sell industrial technology to the Soviet Union, among other things.
There is a historical and natural impulse between Germany and Russia that began in 1922. After the end of World War 1, a defeated Germany needed to re-build its economy.
A deal was done with Russia, whereby Russia will supply Germany with all the raw materials needed, in return for which Germany will supply Russia with industrial goods and advanced technology. Both needed each other. It was a "win-win" deal. This deal was formalized in Genoa, Italy, in 1922, and was called the Treaty of Rapallo.
It produced an immediate panic reaction in both the Rothschild houses in London and Paris. This was due to the Rothschild's Shell Oil working and scheming to take control of Russia's war raved Baku oil fields. The Rothschilds were determined to secure monopoly rights to develop and control the vast Russian oilfields.
Even worse for the Rothschilds, certain provisions of the Rapallo Treaty was that a major infusion of German machinery, equipment, steel and other technology was to be sold to Russia for the rebuilding and expansion of the Baku oil fields.
The British response to Rapallo was not long in arriving. Walter Rathenau was killed by British Intelligence in June- two months after the Treaty was signed.
From that moment till now, first London, then after 1945, Washington worked hard to ensure no similar deals happen between these two nations. Were such a commercial union to be formed between Germany and Russia, it would prove to be a big "win-win" for the whole of Eurasia. This trade bond would draw the other Eurasian nations to join the German-Russian trade bloc. In such a scenario, there would be no need for either Britain or America in this new mix. AND THAT IS THE KEY POINT TO NOTE, folks!!
The West's Fatal Mistakes
What worries American diplomats is that Germany, other NATO nations and countries along the Belt and Road route understand the gains that can be made by opening up peaceful trade and investment.
If there is no Russian or Chinese plan to invade or bomb them, what is the need for NATO? And if there is no inherently adversarial relationship, why do foreign countries need to sacrifice their own trade and financial interests by relying exclusively on U.S. exporters and investors?
Instead of a real military threat from Russia and China, the problem for American strategists is the absence of such a threat. America's rising pressure on its allies threatens to drive them out of the U.S. orbit. For over 75 years they had little practical alternative to U.S. hegemony.
But that is now changing. America no longer has the monetary power. The threat to U.S. dominance is that China, Russia and Mackinder's Eurasian World Island heartland are offering better trade and investment opportunities than are available from the United States with its increasingly desperate demand for sacrifices from its NATO and other allies.
The most glaring example is the U.S. drive to block Germany from authorizing the Nord Stream 2 pipeline to obtain Russian gas for the coming cold weather. The only way left for U.S. diplomats to block European purchases is to goad Russia into a military response and then claim that avenging this response outweighs any purely national economic interest.
Europe is to impose sanctions at the cost of rising energy and agricultural prices by giving priority to imports from the United States and foregoing Russian, Belarusian and other linkages outside of the Dollar Area.
What seems ironic is that such sanctions against Russia and China have ended up helping rather than hurting them.
Ever since the closing years of World War II, U.S. diplomacy has aimed at locking Britain, France, and especially defeated Germany and Japan, into becoming U.S. economic and military dependencies.
Financial power has enabled America to continue dominating Western diplomacy despite being forced off gold in 1971 as a result of the balance-of-payments costs of its overseas military spending.
U.S. drives to keep its European and East Asian protectorates locked into its own sphere of influence is threatened by the emergence of China and Russia independently of the United States while the U.S. economy is de-industrializing as a result of its own deliberate policy choices.
America has lost its industrial cost advantage by the sharp rise in its cost of living and doing business in its financialized post-industrial rentier economy. What this means is that the Western economies have become financialized.
An economy that produces very little of its own goods is not a stable economy. Rather, it is the FIRE (finance, insurance, real estate and services) that underpins western economies.  And, it all revolves around the Dollar paradigm.
The dollar is backed by nothing tangible, but a promise. Thus, these economies, built on lies, are not sustainable. Eventually, a financial economy becomes a parasite, living off the sweat of others, who PRODUCE GOODS, or have resources.
This is the background for U.S. fury at its failure to seize Russia's oil resources – and at seeing Russia also break free militarily to create its own arms exports, which now are typically better and much less costly than those of the U.S.
In parallel with the trade war against China, the CIA was preparing a war against Russia, since the Anglo-Saxon geopolitical tradition considers  Russia  the main obstacle to establishing world domination of the US and British power and financial elite.
In addition, the United States used the monetary and financial front of the hybrid war against the Russian Federation. Already in 2014, they introduced the first financial sanctions and knocked out a significant part of Western loans from the Russian economy.
Now we are witnessing the next phase, when they have actually disconnected Russia from the world monetary and financial system, which they dominate. Anglo-Saxon geopolitics is traditionally oriented against the Russian Empire and its successors, the USSR and the Russian Federation, because, since the days of the British Empire, Russia has been seen as the main opponent of the Anglo-Saxons.
After the weakening of the PRC did not work out through a trade war, the Americans transferred the main blow of their military and political power to Russia, which they consider to be a weak link in world geopolitics and economics.
In addition, the Anglo-American bloc seek to establish dominance over Russia and at the same time weakening China, because the strategic alliance of the Russian Federation and China is too tough for the United States. They have neither the economic nor the military power to destroy them together.
In 2008, the financial crisis broke out and it became clear that the transition to a new technological order was beginning, and the old world economic order and the previous management system no longer ensured sustainable economic development.
China was now leading the way, but on three conditional fronts – monetary-financial (where the United States still dominates the world), trade-economic (where they have already lost superiority to China) and information warfare (where the Americans also have technologies that are superior). They use all three of these fronts in an attempt to keep the initiative and maintain the hegemony of their corporations.
And finally, the fourth front is the biological one, which opened with the advent of the coronavirus. Today we see that a whole network of US biological laboratories operating globally. So the United States has long been preparing to open the biological front of the world war.
The fifth, and most obvious, front is, in fact, the front of combat fighting – as the last tool for forcing the states that they control into unquestioning obedience.
Today, the situation on this front is also escalating. That is, active operations are underway on all five fronts of the world hybrid war, and the result can be predicted. The Americans will not be able to win, just as the British did not succeed in their time.
After the Americans seized first the Venezuelan foreign exchange reserves and handed them over to the opposition, then the Afghan foreign exchange reserves, before that the Iranian ones, and now the Russian ones, it became completely clear that the dollar ceased to be the world currency.
Following the Americans, the Europeans also committed this stupidity – the euro and the pound ceased to be world currencies. Therefore, the old monetary and financial system is living its last days.
After American dollars that no one needs are sent back to America from Asian countries, the collapse of the world monetary and financial system based on dollars and euros is inevitable. Leading countries are switching to national currencies, and the euro and the dollar are ceasing to be foreign exchange reserves.
What we see today is an attempt to form a certain image of a new world order with a world government at the head, where people are driven into an electronic concentration camp. Sacrificing their own democratic values, they try to force people to obey commands. International organizations, including the World Health Organization, are used as a kind of stronghold for assembling a world government that would be subordinate to private capital.
Within the framework of the globalist scenario, the Russian Federation is viewed as a territory that is intended for exploitation by Western transnational corporations. The "indigenous population" must serve their interests.
Under such a scenario, Russia disappears as an independent entity, just like China, by the way. The Western world government may incorporate some of Russian oligarchs into its version of the future, but only in second and third-rate roles.
European trade and investment prior to the war had promised a rising mutual prosperity between Germany, France and other NATO countries vis-à-vis Russia and China. Russia was providing abundant energy at a competitive price, and this energy was to make a quantum leap with Nord Stream 2.
This bilateral trade and investment is now stopped – and will remain stopped for many, many years, given NATO's confiscation of Russia's foreign reserves kept in euros and British sterling, and the European Russo-phobia being fanned by U.S. propaganda media. All of these trade dynamics will strengthen the dollar vis-à-vis the euro (in the short-term). The Eurozone will turn into an economic dead zone.
For the United States, this is Dollar Hegemony on steroids – at least vis-à-vis Europe. The continent would become a somewhat larger version of Puerto Rico.
Russia's move into Ukraine was the opening salvo of World War III, and is likely to last at least a long time, as the U.S. extends the fight to encompass a worldwide conflict. Apart from the U.S. economic conquest of Europe, its strategists are seeking to lock in African, South American and Asian countries along similar lines to what has been planned for Europe.
At least, this is the plan. It is a FIGHT TO THE FINISH. And it may go nuclear. In this way, as Russia's economy turns to the east when Europe's economy and civilians suffer, the US is the biggest winner as it not only managed to subjugate the Europeans again, but achieved a separation between Europe and Moscow.
There's a quote that goes something like this "those whom the gods destroy, the gods make them go mad first". This is the sheer lunacy that has taken hold within the Rockefeller and Rothschild family. They are so consumed with hatred that they are unable to think rationally, and coherently. Their thinking is reflected in the attitudes, speeches, and desperate trips  by many senior members of various western, or Zone A governments; all to no avail.
In the next article, we find Putin's counter-moves. These moves shocked London and New York to its core. Let's find out what it is.
Read the full article here.
Conclusion?
So what do you think? Is Europe about to experience a "Winter from Hell" where chaos will break out and millions of people could die?
I hope I am wrong, I truly do.
But I would be neglecting my role as a "watchman" to warn the public of what may be soon coming in Europe.
See Also:
Understand the Times We are Currently Living Through
The post Winter from Hell: Europe About to Descend into Chaos as Millions Could Die first appeared on Health Impact News.
This content was originally published here.